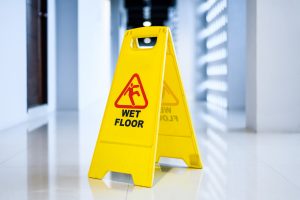 Guests who are injured on someone else's property may have the option of filing a claim to be compensated for injuries by the property owner. These are a type of premises liability claims, and one example is if a patron at a grocery store is injured in a slip-and-fall accident on a "transitory foreign substance". To prevail in a Florida slip-and-fall lawsuit, F.S. 768.0755 requires the plaintiff's needs to show the defendant property owner/manager had either actual or constructive knowledge of the slipping hazard. A "transitory foreign substance" was defined by the Supreme Court of Florida as "any liquid or solid substance, item or object located where it does not belong." Owens v. Publix Supermarkets, Inc., 802 So.2d 315, 317 (Fla. 2001)
Actual knowledge means the property owner was fully aware of that particular danger at that specific place and time. Proving this can be tough. Constructive knowledge is how most of these cases are established.
Constructive knowledge can be established by laying out circumstantial evidence that shows:
The hazardous condition existed on site for so long that the business establishment should have known of it were they exercising ordinary care;
The dangerous condition occurred with such regularity that it was foreseeable.
This element is critical. Recently, Florida's Fourth District Court of Appeal upheld the dismissal of a Florida slip-and-fall lawsuit of Oliver v. Winn-Dixie Stores, Inc. on the basis that the plaintiff had failed to establish defendant's constructive knowledge of a slip hazard. Continue reading