Proving Constructive Knowledge in a Florida Slip-and-Fall Lawsuit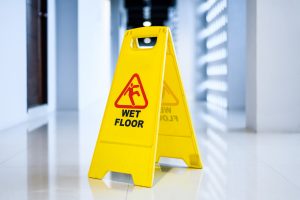 Guests who are injured on someone else's property may have the option of filing a claim to be compensated for injuries by the property owner. These are a type of premises liability claims, and one example is if a patron at a grocery store is injured in a slip-and-fall accident on a "transitory foreign substance". To prevail in a Florida slip-and-fall lawsuit, F.S. 768.0755 requires the plaintiff's needs to show the defendant property owner/manager had either actual or constructive knowledge of the slipping hazard. A "transitory foreign substance" was defined by the Supreme Court of Florida as "any liquid or solid substance, item or object located where it does not belong." Owens v. Publix Supermarkets, Inc., 802 So.2d 315, 317 (Fla. 2001)
Actual knowledge means the property owner was fully aware of that particular danger at that specific place and time. Proving this can be tough. Constructive knowledge is how most of these cases are established.
Constructive knowledge can be established by laying out circumstantial evidence that shows:
The hazardous condition existed on site for so long that the business establishment should have known of it were they exercising ordinary care;
The dangerous condition occurred with such regularity that it was foreseeable.
This element is critical. Recently, Florida's Fourth District Court of Appeal upheld the dismissal of a Florida slip-and-fall lawsuit of Oliver v. Winn-Dixie Stores, Inc. on the basis that the plaintiff had failed to establish defendant's constructive knowledge of a slip hazard.
According to court records, the plaintiff was injured when she fell into something like a "half-split" after traversing a grocery store aisle that was slicked with a clear, dirty liquid and an apparently squished grape. She observed neither of these things before she approached, which means it was not an open and obvious hazard that she had a responsibility to take note of and avoid. She could not say how long the liquid had been there or how it got there. She photographed the area just after her fall.
Witnesses, including other shoppers and responding store employees, testified they saw the liquid and a single slip mark, but no other footprints or tracks through it.
To have the dismissal of the case upheld, Winn-Dixie had to show there were no disputed issues of fact as to whether (among other things) it lacked constructive notice of the squished grape and dirty liquid on the floor. The only factor in question on appeal was whether the store had constructive knowledge. The plaintiff bore the burden of proof.
A store employee who is seen on video surveillance passing four times in the half-hour before the plaintiff fell in that same aisle testified he saw nothing on the floor in the spot where the plaintiff fell. Additionally, testimony from several others indicated there were no track or wheel marks through the liquid. This, the court noted, "hardly establishes that the dangerous condition existed for such a length of time that in the exercise of reasonable care the condition would have been known to the defendant." Absent additional evidence, there was nothing else to indicate the liquid was on the floor long enough prior to the accident or that this happened regularly enough to show constructive knowledge.
F.S. 768.0755 makes it more difficult to win Florida slip-and-fall lawsuits, which is why working with a skilled personal injury lawyer is imperative.
If you are injured in the greater South Florida area, contact our injury attorneys at The Garvin Firm at 800.977.7017 for a free initial consultation.
Additional Resources:
Oliver v. Winn-Dixie Stores, Inc., Feb. 19, 2020, Fla. 4th DCA
More Blog Entries:
A Stroll in the Sunshine State: Florida Pedestrian Accident Risk No. 1 in U.S., Sept. 30, 2019, Florida Injury Lawyer Blog