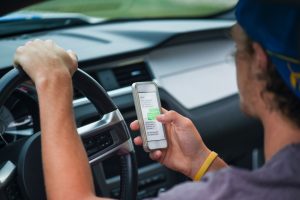 Food delivery services, such as Uber Eats, Grubhub, and DoorDash, have been doing booming business in recent years. The online food delivery industry is now generating more than $26 million annually, and nearly one-third of Americans say they used food delivery services twice a week. But as their popularity has risen, so too have reported Florida distracted driving crashes attributed to their drivers.
Last year, there was the tragic case of an Uber Eats driver allegedly slamming into the back of a motorcycle in Tampa, killing a 19-year-old University of Tampa student on the rear of the bike and permanently injuring her brother, the operator. The 33-year-old food delivery service driver was reportedly on her phone making a delivery near campus when the crash occurred. According to The Tampa Bay Times, the police cited the driver for failure-to-yield, but the citation was tossed when the traffic officer failed to appear in court – a ruling the police department is appealing. No criminal charges have been filed, but the victim's family has filed a wrongful death lawsuit. They allege Uber, its subsidiary, and the driver are all liable for their daughter's untimely death. Specifically, they say the driver was rushed and inattentive/on her phone, and that Uber is negligent in failing to train her and for encouraging driver distraction with a feature that prompts workers to communicate with customers while they're driving. Plaintiffs also say the company hired the driver despite a poor driving record that included citations for speeding, carelessness, and a crash.
Similar cases have been reported from Boston to San Francisco. There are currently numerous, ongoing personal injury and wrongful death lawsuits against the drivers, vehicle owners, and delivery app companies.
Factors in Food Delivery Driver Crashes
The reality is food delivery drivers have always been slightly more prone to crashes, even before smartphones were everywhere. In fact, they have one of the highest occupational fatalities rates in the U.S. Primary factors driving up crashes for food delivery drivers: Continue reading