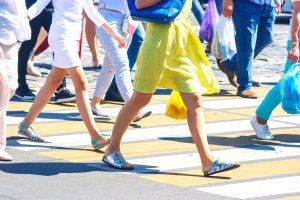 A sidewalk stroll in the South Florida sunshine should be a safe way to spend an afternoon. Unfortunately, walking alongside, in, around, and across Florida roadways is quite dangerous – and it's only gotten worse in recent years. According to a new report by the Governors' Highway Safety Association, the rate of deadly Florida pedestrian accidents ranks No. 2 in the nation, rising by 31 percent between 2020 and 2021. Nationally, drivers struck and killed nearly 7,500 people last year. That's about 20 pedestrian accident deaths every day – more in any single year for the past 40.
Pedestrian deaths are most common in urban areas, particularly at night, and especially October-January. People 70 and older accounted for 38 percent of pedestrian accident deaths. High vehicle speed, increasingly larger vehicle size, lacking pedestrian infrastructure, and growing driver distraction are all cited as contributing causes to this serious and growing problem.
These stark statistics overshadow the fact that every single one of those numbers is the devastating loss of someone's somebody – mom, dad, brother, sister, daughter, son, grandparent, or friend. Compounding the grief for so many is the fact that a sizable percentage of Florida pedestrian accidents are caused by hit-and-run drivers.
Our team of Fort Myers personal injury lawyers recognizes the unique challenges in pursuing civil litigation for pedestrian accidents. We have a track record of notable success in this area, even with more challenging cases. We're committed to helping Southwest Florida pedestrian accident victims and their loved ones navigate their next steps, identifying avenues for potential legal action and offering advice on the most viable approaches. Continue reading