Is it illegal to drive barefoot in Florida? What about flip flops?
Year around sunshine in Southwest Florida means motorists are often wearing shorts, tank tops, flip-flops and other light summer garb.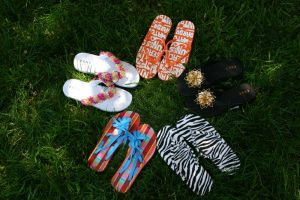 Our Fort Myers injury lawyers know limbs, including hands and feet, are always vulnerable in serious traffic collisions. Leg compartments of modern vehicles extend to the front axle in many vehicles. Hands and arms are often caught between your body and the steering column. Crush injuries and degloving injuries can result- While it may be unsafe this still doesn't answer the question – Is it illegal to drive barefoot in Florida?
The short answer is No, Click Orlando reports Florida is among the states where driving in flip-flops or barefoot is not illegal. And that's a good thing or most of us would be violating the law on a regular basis. But what about flip flops on a motorcycle or even barefoot on a motorcycle?
Deglove Injuries in SWFL Traffic Collisions
The previously referenced article focused on the increased risks of lacerations in the event of a serious traffic accident. However deglove injuries are among the most painful and most serious injuries to the hands and feet, and can lead to permanent impairment and scaring. Degloving, or avulsion injuries, occur when layers of skin and/or muscle are ripped from underlying connective tissue and bone. These injuries are often life-threatening because of tissue death and the large volume of blood lost. There are two main types of degloving injuries:
Open degloving injuries: Occur when skin and tissue is ripped way, exposing muscle, connective tissue and bone. Traffic accidents are the most common cause of these injuries, followed by industrial or farm machinery accidents, falls, sporting injuries and animal bites. They most commonly occur to the legs, feet, hands and fingers. But, despite the name, can also occur on the torso, scalp or face.
Closed degloving injuries: These injuries can be invisible, except for possible visible bruising. Most of these involve a force that separates layers of skin and deep tissue. The resulting spaces are known as Morel-Lavallée lesions and can fill with fluid, blood and fat. These injuries most commonly occur to the torso, buttocks, spine, shoulder blades and knees.
Safe Motorcycle Riding in SWFL Requires Proper Attire
While all motorists may suffer such injuries in a serious auto accidents, motorcyclists are at particularly high risk for road rash, degloving injuries and other types of trauma caused by road friction.
As our motorcycle accident lawyers in Fort Myers recently reported, motorcycle riders are already at increased accident risks in Southwest Florida. Choice of attire can be critical in summer for a number of reasons, not the least of which are the fast-moving summer storm fronts, which often bring gusty winds and heavy rain. Motorcycle riders in Southwest Florida are particularly vulnerable to the consequences of dress. A helmet is a great start, although Florida's helmet law doesn't require adult riders to wear one and established case law does not hold a rider's decision not to wear a helmet as contributorily negligent.
Eyewear is required by law and long sleeves and long pants are highly encouraged, as anyone who has ever suffered serious road-rash injuries can tell you. When it comes to footwear, riders may want to be summer sexy, but those who have witnessed the consequences of a degloving injury will tell you to wear hard-soled shoes.
'Florida Statute 316.2085, which governs the use of motorcycles and mopeds, does not specifically address riding a motorcycle barefoot. However, doing so could be argued to constitute a moving violation, because it might impair an operator's ability to use their feet to help control and operate the vehicle.
So when it comes to businesses, many of which cater to the sun-worshipping summer crowd, flip-flops and bare feet might be expected, but when it comes to flip flops on a motorcycle or barefoot driving in Florida, you should definitely leave your flip-flops at the beach.
If you are injured in Fort Myers or elsewhere in the sunshine state, contact Fort Myers injury attorneys at Garvin Injury Law at 239-277-0005 for a free initial consultation.