Florida Nursing Home Abuse Warning Informs Public of Abuse Citations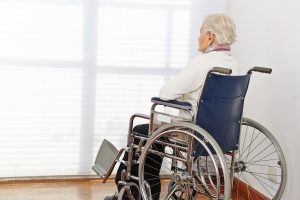 The prevalence of Florida nursing home abuse is one of the primary reasons people have such a difficult time deciding to relocate a loved one there in the first place. One of the biggest indicators of whether a facility is safe is how well it is staffed. The government-run Nursing Home Compare website makes research much easier and more transparent by publishing everything from staffing levels in comparison to the state average to details contained in health and code inspection reports. Recently, it has gone a step further, with a bright red warning icon indicating nursing homes that have failed to protect its residents from being neglected, exploited, or abused.
There are reportedly 697 nursing home facilities in the State of Florida. Nursing Home Compare marked 25 of the state's 697 nursing homes with the red-and-white "halt" hand icon on the first day the system went into use late last year. Two of those were in Southwest Florida: ManorCare Health Services in Fort Myers and Lakeside Pavilion in Naples. Both of those facilities were already at a two-star rating, indicating the quality of their care is below average. They have also both been on the state's "watch list" of nursing homes that red flag facilities and that have been cited for failing to protect residents from Florida nursing home abuse.
The red warning icon is assigned to those nursing homes that have "severe abuse citations," which usually involve serious abuse or neglect, typically leading to injury or death. However, less serious violations of "potential harm" could warrant a warning icon if it is repeated two years in a row.
A nursing home that receives a red warning icon would generally keep the designation for about one year after it is issued – even if the incident was a one-time occurrence and even if a correction has since been made. In cases of repeated violations, abuse icons can stay up for a full two years.
Florida Nursing Home Abuse, Neglect Too Often Goes Unpunished by State Regulators
The Naples Daily News reported as part of a 2018 investigation spanning over five years, that there were 7,200 violations filed at 54 of the lowest-rated nursing homes in the state, resulting in 191 deaths. Family members filed civil lawsuits. While nursing home representatives denied the claims, they settled 87 of them, while 104 were still pending.
Of all those nursing home patient deaths, only about a quarter of the deaths – 54 – were investigated by the Florida Department of Children and Families, which verified 43 of them. Those findings were then forwarded to the Florida Agency for Health Care Administration, the regulatory agency that oversees nursing homes in the state. AHCA, however, declined to take action (fine or penalty) in 32 of those 43 cases – even when DCF determined nursing home staffers caused or contributed to the patient's death.
Holding Nursing Homes Accountable for Abuse and Neglect
It is often left up to loved ones to pursue legal action and hold negligent facilities accountable for Florida nursing home abuse and neglect. As our South Florida nursing home abuse attorneys can explain, facilities that provide sub-standard care resulting in illness, injury, or death can be held responsible through litigation. Most of these are settled before trial, but it is important to have an experienced injury/wrongful death attorney willing to take the case to a jury if necessary.
It is worth noting that nursing home malpractice cases are a bit different than medical malpractice cases (though there could be claims for both concerning one patient). Medical malpractice is a provider's failure to abide by the accepted standard of care for his/her profession. Nursing home malpractice/negligence usually involves a patient's injury, illness, or wrongful death caused by either a nursing home/employee's failure to follow the facility's policies OR failure to act as a reasonable nursing home one under similar circumstances. Even if the claim relates to the conduct of a professional care provider like a doctor or nurse, there are often viable claims that can be made against the nursing home itself for management failures, etc.
If you or a loved one are injured in the greater South Florida area contact our injury attorneys at The Garvin Firm at 800.977.7017 for a free initial consultation.
Additional Resources: