Do I Really Need a Lawyer for a Car Accident in Florida?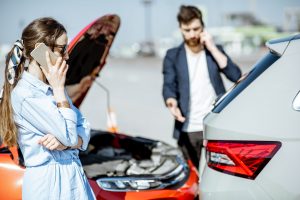 You're going about a regular day when suddenly you're blindsided in a Florida car accident. Traumatic and jarring, the experience may leave you bewildered about what to do next. Often, one of the first questions is, "Do I really need a lawyer?"
The answer depends on a myriad of factors. Let's start with something we can say unequivocally: There is no law anywhere in Florida statutes that says you must hire a lawyer if you're involved in a crash. However, there are numerous situations in which it would be prudent or even strongly advisable to do so.
Here, we offer the top three questions to ask before deciding if you should hire a car accident lawyer in Florida:
How badly are you hurt? Are your injuries of a severe and/or permanent nature? If your injuries aren't very serious and have completely resolved in a day or so, they'll likely be covered by Florida's no-fault personal injury protection (PIP) coverage, which provides up to $10,000 in medical expenses and/or lost wages, regardless of fault. (Note: PIP is not available to motorcycle operators in Florida.) If you haven't missed that much time at work and you're able to continue life pretty much as before, you might be able to avoid hiring a lawyer. That's not to say your PIP insurer won't push back on your claim. If you find they are giving you a hassle, you may consider a consultation with an attorney, at the very least to review your legal options. Initial consultations with injury lawyers in Florida are typically offered free of charge.
In the event your injuries are serious or permanent, hiring a lawyer is strongly advised. The reason is that there is much more at stake – for you, as well as for the other party's insurer. Insurance companies are notorious for tactics intended to lowball those injured. This is especially true when they recognize the fair payout for you is likely to be significant. The insurer will have a legal team working for them. If your injuries are serious, so should you. The serious injury threshold is spelled out in F.S. 627.737. One can only step outside the no-fault system if they have suffered significant & permanent loss of an important bodily function, permanent injury with a reasonable degree of medical probability, significant and permanent scarring/disfigurement or death. This sounds like a high bar, but a broken bone that keeps you from returning to work for an extended time may qualify. PIP coverage is fairly easy to burn through when injuries are serious. (Some even consider PIP coverage redundant if they have health care coverage.) PIP does not allow compensation for non-economic damages, which includes things like pain and suffering and loss of life enjoyment. Such damages are often compensable if you prevail in a personal injury claim. One final note on the severity of your injuries: You may not be in the best position right after a crash to determine the full financial impact of your injuries long-term. An attorney can help you do this, giving you a good idea early on whether you have a case worth pursuing.
Who was at-fault? As previously mentioned, Florida is a no-fault state when it comes to car insurance. Unless the injuries were serious – and caused at least in part by another's actions – you'll likely have to stick with PIP coverage. That said, even if you (the person hurt) bears partial responsibility for the crash, you might still be entitled to monetary damages. Florida is what we call a pure comparative fault state. What that means, per F.S. 768.81, is basically that everyone is financially responsible for the role they played in the accident. Even if you are 99 percent responsible for what happened, you can still collect damages on that 1 percent of damages for which the other person is responsible. Many say that Florida is a plaintiff-friendly state in this way because many other states don't allow you to collect any damages if you are more than half responsible – or in some cases, if you are even just 1 percent at-fault. Still, know that where defendant insurers don't outright deny any blame for a car accident in Florida, they will very commonly assert comparative fault by the victim. An experienced Naples car accident attorney can help you effectively counter these assertions and fight for an amount of financial compensation that accurately reflects the facts. Also, the accident report isn't the be-all-end-all of fault determination in Florida crash cases. A police officer's testimony can be used as evidence, but ultimate determinations of fault are made either in negotiations with insurers or by the court. This is another reason it's a smart idea to consult with an attorney before deciding on your own that you don't have a case.
How much insurance coverage is available to collect? This may seem a bit of a callous question, but assessing the cost-benefit analysis is helpful in deciding whether you want to hire a lawyer after a crash. Sadly, Florida is a bit unique compared to other states in that it does not require most drivers to carry bodily injury liability insurance. This is the type of coverage paid out if you injure someone else. The law does require $10,000 in no-fault PIP coverage (motorcyclists being the exception) and $10,000 in property damage liability. If drivers do not carry liability insurance, they're required by the Florida Financial Responsibility Law to to provide financial coverage of at least $10,000 per person and $20,000 per accident if they cause a crash. (That doesn't always mean they do.) This is why in Florida it is a very good idea for motorists to purchase uninsured/underinsured motorist (UM/UIM) coverage. This is insurance you buy to provide coverage for your losses in the event you're injured by someone who doesn't have enough – or any – insurance. Even so, pursuing a UM/UIM claim isn't necessarily easier just because you're the one who's been faithfully paying those premiums; insurers are always first and foremost out for their own bottom line. In a UM/UIM claim, you also still have to prove the extent of your damages and show the other party was at-fault. It is possible to go after the uninsured driver personally, but that's only worth it if they have adequate personal assets on which to collect. In cases where there is substantial insurance coverage available (multiple defendants, commercial liability coverage, high claim values, etc.), it is strongly advised that you hire a lawyer. Insurers vigorously defend such claims, and having an experienced Florida car accident lawyer on your side will help ensure you get a fair shake.
One final thing to note is that injury lawyers in Florida are paid on a contingency fee basis. This means you do not pay attorney's fees at all unless and until you win. If you prevail, your attorney collects a portion of that amount. The goal is specifically to ensure there aren't financial barriers to justice when someone who is seriously injured tries to go up against a huge insurer, corporation or powerful, deep-pocketed defendants. The other benefit of this type of arrangement is that it provides an incentive for attorneys to be upfront about your chances for success. If they aren't paid unless you win, they aren't likely to advise you to fight tooth-and-nail on a weak or long-odds case. For this reason, we typically advise anyone who has been in a crash and is unsure about whether to hire a lawyer: At least talk to one or two before making any final decisions. 
If you are injured in Fort Myers, Naples or Key West, contact Garvin Injury Law at 800.977.7017 for a free initial consultation.
Additional Resources:
Consumer Pamphlet: Attorney's Fees, The Florida Bar
More Blog Entries:
Naples Injury Attorney Explains Accident Report Privilege in Florida Crash Cases, Oct. 27, 2021, Naples Car Accident Lawyer Blog