Ask a Fort Myers Injury Lawyer: Can I Sue for a Florida Work Injury?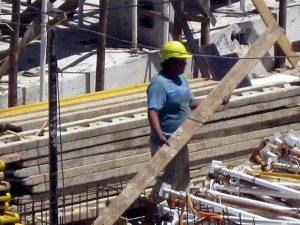 Roughly 2.8 million non-fatal workplace injuries and illnesses occur annually, according to the U.S. Department of Labor's Bureau of Labor Statistics. One-third of these incidents caused employees to miss at least one day at work. Those in agriculture, mining, construction, manufacturing, retail trades, transportation, and warehousing are at the highest risk for work injuries. As a Fort Myers injury lawyer, one question I am sometimes asked is whether or not someone can file a lawsuit following a work-related injury. The answer will depend on circumstances under which the person was injured, whether dangerous machines/products were involved, and who was responsible for safety at the place where it happened.
Let us start by making it clear that in the state of Florida, F.S. 440.11 makes it clear that workers' compensation is considered the exclusive remedy for work related injuries. However, this does not mean you cannot file an injury lawsuit. What it means is that you probably cannot file an injury lawsuit against your employer or co-worker. The trade-off, as stated in F.S. 440.15, is that employees get the benefit of quick, efficient receipt of medical and wage loss benefits without having to prove they were blameless, while the employer enjoys immunity from work injury lawsuits. There is, however, a very narrow exception to this rule that involves employers who cause worker injuries with deliberate intent, and your injury probably does not qualify. (If your employer failed to carry workers' compensation insurance or you were an independent contractor/not an employee, that may be another matter entirely.)
Still, what you do not want to discount is the potential for a third-party liability claim. The fact is, even if you do collect workers' compensation, it is not going to cover as much as a personal injury lawsuit would. Workers' compensation claims do not allow for damages like pain and suffering, mental anguish, or a loss of consortium claim from your spouse.
There are a lot of situations where an injured employee is only going to be entitled to workers' compensation claims. (A Fort Myers injury lawyer can help you with this too, ensuring that you receive full and fair compensation for a work injury that is impacted your life and earning ability.) Third-party liability, on the other hand, usually comes into play if you were working with dangerous tools, working on a job site that was dangerous or involved in a traffic crash while driving for work.
Dangerous Tools, Substances, Machinery
Many jobs require the use of heavy and/or dangerous equipment. If you are injured while using one of those products, you may have a third-party liability claim against the manufacturer or owner of that device.
One example of this was the 2018 Florida Supreme Court case of Newton v. Caterpillar Financial Services Corp. et al. In that case, the plaintiff was hired as an independent contractor to assist a hauling company and its agent to clear debris from a private lot. The company leased a loader, which is a piece of heavy equipment used in construction to move aside or load materials like asphalt, debris, gravel, feed, dirt, or other materials into or onto another machine. While the hauling company employee was working the loader, the plaintiff, who was in the back, packing down the debris, was injured.
The plaintiff filed a lawsuit against the owner of the loader, arguing it was liable for injuries he sustained by the hauling company employee's negligent operation of the machine because it was a dangerous instrumentality. The doctrine of dangerous instrumentality holds that an owner of a motor vehicle or other instrumentality which has the capability of causing death/destruction can be held vicariously liable if they voluntarily entrust that vehicle to someone whose negligent operation causes damage to another.
Expert witnesses from both sides were called before the court to consider whether loaders are dangerous instrumentalities. The plaintiff's witness testified these are huge machines capable of loading thousands of pounds of material nearly 10 feet in the air. The trial court granted the manufacturer's motion for summary judgment, but the state supreme court quashed that, finding loaders a dangerous instrumentality as a matter of law and remanding the case for summary judgment in favor of the injured worker.
Other examples of third-party liability claims would be claims for defective products (product liability) and claims for repeated exposure to toxic substances (toxic tort).
Work Accident Premises Liability Claims
Premises liability claims can be filed if the property on which you were conducting your work was neither safe nor owned/operated by your employer.
We see this sort of claim more frequently in the construction trades. For example, if you are an electrician employed by a contractor hired by a grocery store chain to rewire some coolers and you slip-and-fall on the water on the store floor, you may have a claim against the grocery store chain. Similarly, if you are working on a job site that is not being properly supervised or secured by the general contractor or manager, you may have a premises liability claim against the general contractor, the manager, and possibly the owner of the property. A South Florida injury lawyer will be able to give you a better idea of whether this is a possibility.
Car Accidents On-the-Job
If you are driving for work and another driver negligently causes a crash in which you are badly hurt, you can likely collect workers' compensation AND file a claim against the at-fault driver.
If the other driver does not have insurance or does not have enough insurance to cover all your losses, you may pursue a claim against your own uninsured/underinsured motorist coverage. This may be complicated by the fact that your employer may have had an auto insurance policy that covers you as well. That is why it isreally important to consult with an experienced South Florida injury lawyer before signing off on any settlements following a serious work injury.
If you are injured in the greater South Florida area, contact our injury attorneys at The Garvin Firm at 800.977.7017 for a free initial consultation.
Additional Resources:
EMPLOYER-REPORTED WORKPLACE INJURIES AND ILLNESSES – 2018, Nov. 7, 2019, U.S. Bureau of Labor Statistics
More Blog Entries:
Common Myths About Florida Personal Injury Lawsuits, March 12, 2020, Fort Myers Injury Lawyer Blog