$420k Verdict Against UIM Insurer for Florida Car Accident Neck Injuries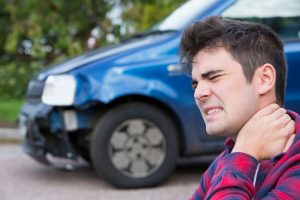 In late last year, a jury awarded $420,000 to a man who at 17 suffered permanent neck injuries in a South Florida car accident. The case is noteworthy for the fact that it went to trial (more than 212,000 Florida car accident injuries are reported annually, but most claims are settled long before a trial), as well as for the fact it was against the victim's own insurance company. It illustrates the fact that just because you're a good customer doesn't mean your auto insurance company is going to make the claims process easy for you – especially when the stakes are high.
Specifically at issue was something called underinsured motorist (UIM) coverage.
What is Underinsured Motorist Coverage?
In case you aren't familiar, UIM helps pay for medical bills, lost wages and other expenses for those hurt in a crash when the at-fault driver doesn't have enough liability coverage to cover the full extent of the damages. Hand-in-hand with that is uninsured motorist coverage (UM), which provides coverage when the at-fault driver in a crash has no insurance at all.
As outlined in F.S. 627.727, neither UIM nor UM is strictly required in Florida. However, insurers must offer it standard with every car insurance policy. You can forgo it, but only with a signed waiver. Most insured drivers in Florida have at least some UM/UIM coverage, which is good because Florida has one of the highest rates of uninsured drivers, as well as very low liability mandates. Bodily injury coverage isn't required for most drivers in the Sunshine State, and only $10,000 in property damage liability is obligatory.
However, as our Fort Myers, Florida car accident lawyers can explain, faithfully paying those auto insurance premiums is no guarantee you won't get a fight over fair compensation for those losses.
Florida is a no-fault car insurance state. That means all drivers are supposed to be covered by personal injury protection (aka, PIP) in the event of a crash – regardless of whose fault it was. But PIP only provides a maximum of $10,000. If you meet the serious injury threshold, you can step outside of that system and claim damages from the at-fault driver. If that driver is uninsured or underinsured, you can then file a claim for UM/UIM coverage. To collect, UM/UIM, you must prove:
The other party was at-fault/liable for the crash/your injuries.
The severity of your injuries/losses (also known as "damages").
The at-fault driver's insurance coverage is non-existent or inadequate.
Fighting Your Own Insurer Following a Florida Car Accident
The recent UIM verdict involved a crash that occurred in Weston. Plaintiff was traveling through an intersection when he was struck from the right by another driver who ran a stop sign and was allegedly speeding. Plaintiff suffered injuries to his neck, back, and dominant wrist. He was transported by ambulance to the hospital. Although his initial treatments were minor, he continues to suffer persistent pain in his neck that prevents long periods of standing or sitting or lifting/carrying heavy objects. Doctors opined he'd likely need 6-12 chiropractic treatments annually for life to ease the pain.
The other driver's insurer paid out the policy maximum fairly quickly. However, the plaintiff alleged his damages extended beyond that amount, so he filed a claim with his underinsured motorist (UIM) carrier for additional coverage. In the case of Fellows v. Mercury Indemnity Company of America, before the Broward County Circuit Court, plaintiff sought compensation for past/future medical expenses and past/future pain and suffering.
The insurer denied the claim, saying it wasn't obligated to pay out as much as the plaintiff demanded because he was comparatively negligent for the crash. In other words, they were saying he was also to blame for what happened. (Comparative negligence can reduce the compensation to which one is entitled – sometimes significantly – but it won't entirely bar the claim unless the plaintiff is deemed 100 percent at-fault.) Attorneys for the insurer argued the plaintiff was to blame because he was distracted, engaged in a hands-free phone conversation as he approached the intersection, and failed to make sure the intersection was clear before proceeding. They also argued that some of his ongoing symptoms weren't caused by the crash, but rather were a result of degenerative conditions and/or a subsequent crash.
Both sides presented expert witness testimony. Ultimately, jurors rejected the insurer's arguments, finding the other driver was liable for the crash and that his insurance didn't cover plaintiff's total damages, which they calculated as being just shy of $420,000. That amount included $35,000 for prior medical expenses, $135,000 for future medical costs and $250,000 for past and future pain and suffering.
The main takeaway here is that insurers – even your own – will push back hard when it comes to payouts. Having an experienced injury lawyer advocating on your behalf helps ensure they're held accountable to pay full and fair compensation.
If you are injured in Fort Myers, Port Charlotte, Sarasota, Cape Coral, Naples, or Key West, contact Garvin Injury Law at 800.977.7017 for a free initial consultation.