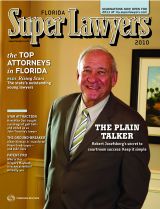 The Garvin Injury Law in proud to announce that Leland E. Garvin has recently been named by Florida Super Lawyers magazine as one of the Top Young Lawyers in Florida for 2010. Only2.5 percent of the lawyers in the state are selected by Super Lawyers for this list.
Each year lawyers are asked to nominate the best attorneys who are 40 or under, or who have been practicing for 10 years or less. They are instructed to nominate lawyers they have personally observed in action — whether as opposing counsel or co-counsel, or through other firsthand courtroom observation.
After these nominations are submitted, the research team at Super Lawyers undertakes an independent evaluation of candidates by the attorney-led research staff along with a good-standing and disciplinary check with the Florida Bar.