Each year, the Florida Chapter of the American Board of Trial Advocates (FLABOTA) presents the Trial Lawyer of the Year Award to one individual that has exemplified their selection criteria:  being an excellent advocate with a distinguished career, having a superb reputation of high ethics and fair play, and having achieved outstanding results for his or her clients. A lawyer can only receive the Trial Lawyer of the Year Award once in his or her career. Part of the esteemed award includes a $5,000.00 cash donation to the law school of the recipient's choosing.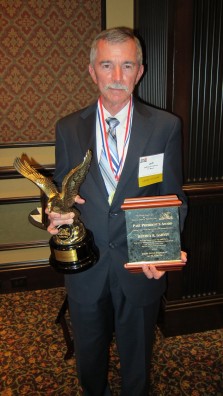 Members of FLABOTA select the recipient of the award, and this year Jeff Garvin, of the Garvin Injury Law with offices in Fort Myers and Fort Lauderdale, received the once in a lifetime honor. Garvin chose his alma mater and Jennifer Zedalils of the University of Florida College of Law was on hand to receive the cash portion of the award.
The Garvin Injury Law focuses their practice on personal injury, medical malpractice, and wrongful death law. Garvin was a charter member of the local FLABOTA Chapter and is the immediate past president of the statewide organization. Garvin has been recognized for taking aggressive measures to help stop legislative initiatives that threatened to harm the Florida court system and impair the independence of the judiciary.