"Should I Sign a Florida Personal Injury Settlement Release Form?"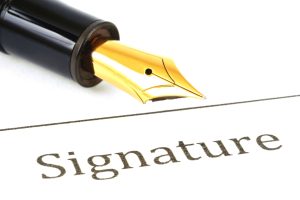 It's completely understandable – smart, actually – to be wary of signing any sort of a Florida personal injury settlement release form following a car accident. As our Cape Coral personal injury lawyers can explain, signing that release is typically required if you want to be paid the settlement amount. And settlements are how 95 percent of Florida injury lawsuits are resolved. But you absolutely should never rush into signing anything without having it first reviewed by a lawyer. This is especially true if the injuries you and/or your loved ones suffered were serious.
Understand that insurance companies are strategic in pressing people to sign Florida personal injury settlement release forms while they're still recovering. They take advantage of the urgency and vulnerability many accident victims feel in the wake of an accident. They're in pain, unable to work, the hospital bills are piling up, and they're leaning on loved ones to help them manage basic household tasks/childcare/caregiving duties. In other words: They're dealing with a lot, and could really use the money. Insurers often take that opportunity to dangle a "take-it-or-leave-it" carrot. They extend a settlement offer that can be much lower than what one is actually entitled to – hoping they'll sign it quickly and give up the right to ask for anything more. We've seen far too many situations where accident victims find out too late that they unwittingly signed away their right to more money – sometimes a lot more.
Among the risks you're running if you haven't carefully considered all the implications of your signature on that document:
You may be forfeiting your right to file a lawsuit. This is standard in settlement negotiations, but that's not a right you should give up without consulting an injury lawyer to be sure that this is truly in your best interest.
You could be forfeiting the right to pursue damages against other parties. Depending on the way the Florida personal injury settlement release form is written, it's possible you may not only be foregoing your right to future damages from the party in question – you may be forfeiting all future claims stemming from the accident. This could even include medical malpractice claims that stem from negligent medical care after the accident. It's very important to carefully review the exact language of the release. Better yet: Have an attorney review it for you.
You might be signing away your right to additional funds. Even if you later discover your injuries are more severe than you realized or that you actually should have received much more for your losses, once you've signed that release form, it's too late. Often what happens is the insurer will offer to pay for the medical bills and property damage – but leave out the compensation for pain and suffering or emotional distress. These are funds to which crash victims are often entitled, but don't realize it unless/until they talk to a Cape Coral personal injury lawyer. You might also want the form to contain a caveat leaving open the possibility that future liens by disability insurers or health care providers may still need to be paid. This typically involves including language that states not all damages from the incident have been recovered.
You might sign away first-party benefits. If the release form isn't carefully worded, you might unwittingly release your own health, disability, workers' compensation, or other insurance carrier from its obligation to pay future benefits. It's vitally important that the Florida personal injury settlement release form preserve first-party benefits.
Keep in mind that "standard" release forms often don't apply to every case. For example, if your insurer offers both PIP (personal injury protection) and UIM (underinsured motorist) coverage, a different release form may be appropriate than the same one used solely for PIP.
Also note that if you're dealing with a third-party insurer (the insurance company of the at-fault driver), you're not the one to whom the insurer owes good faith action. That doesn't mean they can act with total impunity, but this is why it's a good idea to have a lawyer advocating on your behalf – someone who knows what's fair play and what absolutely is not.
If you are injured in a crash and are approached about signing a Florida personal injury settlement release form, make sure you at least have a discussion with a personal injury lawyer first.
Garvin Injury Law represents clients in Cape Coral, Fort Myers, Naples, and Key West. Contact us at 800.977.7017 for a free initial consultation.
Additional Resources:
Release of Claims, General Release, Florida Bar Association
More Blog Entries:
How Does Insurance Cover Cape Coral Bicycle Accident Injuries? March 28, 2023, Cape Coral Personal Injury Lawyer Blog