Report: Child Car Seat Manufacturer Marketed "Big Kid Booster Seats" as Safe in Side Impact Crashes. They Were Not.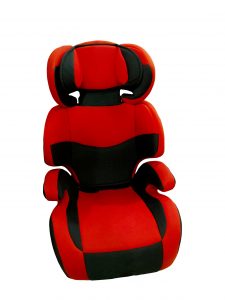 Child car seat manufacturer Evenflo, maker of the "Big Kid booster seat," promised parents on its website that the side impact tests the company had conducted to ensure safety were "rigorous," and simulated realistic side-impact crashes. This may have been a key selling point for many parents, given that side-impact crashes are responsible for one-fourth of all deaths of children under age fifteen (15) in crashes. As our South Florida car accident lawyers have seen, side-impact crashes are more likely to cause severe injuries because the only thing separating the child from the intruding vehicle is the door.
For years, these booster seats were marketed as safe. In reality, according to a new ProPublica investigation, the side-impact crash testing fell far below what one might consider rigorous.
Internal video records show that Evenflo's tests of child-sized crash test dummies in the Big Kid boosters in a T-bone crash scenario were thrown far out of their shoulder belts. One of the company's top booster seat engineers conceded in a deposition that if an actual child had been sitting in that same seat, that type of movement could cause potentially catastrophic spinal, head and neck injuries. They would also be at high risk of death.
Despite this, Evenflo gave the booster seats a "passing grade" for safety in side-impact crashes. As ProPublica put it, "The company's test bar was so low, the only way to fail was if the child-seized dummy ended up on the floor or the booster itself broke into pieces."
In the course of its investigation, ProPublica collected:
Numerous years' worth of video of testing on side-impact crashes;
Reams of transcripts of company employees' sworn depositions;
Marketing material with pinpointed business objectives for the Big Kid booster seat.
This offered insight into a manufacturer of a safety product that was essentially allowed to regulate itself. About two decades ago, a law was enacted mandating the National Highway Traffic Safety Administration (NHTSA) set about passing several rules to enhance child seat and booster seat safety to reduce incidents of children's head injuries in side-impact crashes. However, regulators never set rules about what the standards should be for testing car and booster seats. That gave Evenflo (and every other child car seat manufacturer) free reign to make up its tests and then pass itself.
More than 18 million Big Kid boosters have been sold.
It is not clear whether other car seat manufacturers have done the same concerning testing standards. Graco and Dorel (top competitors of Evenflo) refused to release test videos or even detail the basics of how they test for booster seat safety in side-impact crashes.
Our South Florida car accident lawyers are aware that several child car seat makers – including Evenflo – have been sued in recent years for marketing their booster seats to children in America who are as light as 30 pounds. Some were even marketing them to children as young as 1-year-old. Engineers for these companies had urged top brass to reconsider this approach and decline to approve the boosters for any child under 40 pounds. It was far safer to use car seats with harnesses, the engineers said – an opinion shared by the American Academy of Pediatrics and the Canadian government.
Additionally, the AAP says children should remain in rear-facing car seats until they are 40 pounds and in forward-facing car seats until they are more than 65 pounds.
ProPublica detailed the story of at least one child who was paralyzed from the neck down from a t-bone crash while seated in an Evenflo booster.
If your child is injured in a car accident, it is important to discuss your legal options with an attorney. If you suspect an unsafe or defective car seat may have been partially to blame, a product liability lawsuit could potentially be filed against any companies in the chain of distribution.
Contact our South Florida injury attorneys at The Garvin Firm at 800.977.7017 for a free initial consultation.
Additional Resources:
Evenflo, Maker of the "Big Kid" Booster Seat, Put Profits Over Child Safety, Feb. 6, 2019, By Daniela Porat and Patricia Callahan, ProPublica