Florida Boating Safety Bill Takes Aim at Illegal Charters, Boat Rentals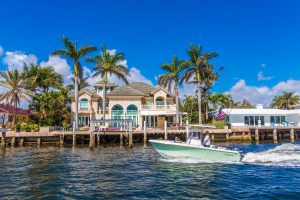 A Florida boating safety bill targeting illegal boat charters and questionable rental companies is wading its way through the state legislature.
As our Key West boating accident lawyers can explain, careless boat operations are consistently the No. 1 cause of boat accidents and deaths off Florida shores. The Sunshine State has, by far, the most boating accidents, injuries, and fatalities in the country.
In recent years, the U.S. Coast Guard has amplified its warnings and crackdowns on illegal charters. Such operations are problematic because an unlicensed charter may not have:
The proper emergency safety, navigation, and communication gear.
Undergone the proper license exams and inspections.
Adequate insurance to cover damages if there is a boating accident injury or something goes wrong.
Senate Bill 606, also known as the Boating Safety Act of 2022, takes aim at illegal boat rentals and charter operations. Under the bill, violating rules on boating under the influence, unsafe navigation, expired registration, damaging seagrass, and anchoring in prohibited areas would result in higher non-criminal fines (from $50 to $100).
As it stands, passenger vessel operators are required to adhere to U.S. Coast Guard regulations, with violators subject to civil penalties and/or captain of the port order. Failure to comply with these orders can result in civil penalties of around $94,000 daily for continued operation. A willful/knowing violation can constitute a Class D felony, carrying up to 10 years in prison and a $250,000 fine. As of the date of the publication of this blog this bill has passed both the senate and the house and is awaiting Governor Desantis' signature.
Supporters of the Florida boating safety bill say none of its elements should harm legitimate businesses.
In Monroe County, the Florida Fish & Wildlife Commission (FWC) reports there were 99 boating accidents in 2020 (the latest available data) – more than anywhere else in the state, with Miami-Dade a close second at 95. Palm Beach County, which ranked 3rd, reported 59. Statewide that year, there were 836 reported boating accidents, 78 deaths, and 534 injuries. Illegal charters and poorly-run rental agencies account for a disproportionate amount of boating accidents because operators lack proper training and vessels lack proper equipment. South Florida waters can be unpredictable. It's imperative that operators know what they're doing – and be prepared. If something does go wrong, having adequate insurance to cover those damages is wise – though it isn't required by Florida law. There is a substantial risk in renting a vessel from an unlicensed/uninsured vessel/operator. Of course, not all unscrupulous operators lay their cards on the table when talking to potential customers.
Among some of the issues that bill sponsors have noted:
Jet ski tour operators licensed in Southeast Florida taking out parties of six are putting more vessels in the water and taking out more people than a single guide can safely handle.
Captains in Southwest Florida offer their services to rental companies despite having expired licenses.
Unlicensed captains routinely take tourists out on the water.
This new bill would lay out a no-cost permitting program through FWC to implement rules for permitting. To obtain a permit, liveries (boating rental companies) would be required to implement written agreements for vessels for at least a year – and make these documents and their facilities available to law enforcement inspection within 24 hours of notice. The FWC would also be allowed to track citations and notices on education requirements, and physical addresses would be required for any Florida vessel registration (except houseboats). The bill would also allow illegal boating "strike teams" to offer support to existing law enforcement efforts.
Boat Rental Laws in Florida
Per the USCG, legal passenger vessel operations fall into one of the following categories:
Uninspected passenger vessels, which can carry up to 6 passengers, must be operated by a credentialed mariner/captain.
Small passenger vessels, which can carry more than 6 passengers, must hold a Coast Guard issued Certificate of Inspection (done annually) and must be operated by a credentialed mariner.
Bareboat charters, which can carry up to a dozen passengers, are hired by the operator.
Meanwhile, Florida boating law requires that anyone operating on, riding on, or being towed behind a personal watercraft be wearing an approved personal floatation device. Operators are required to have an engine cutoff switch lanyard attached to their person or clothing. Personal watercraft can't be operated 1/2 hour after sunset or 1/2 hour before sunrise – even if one is using navigation lights. A person must be at least 14 to operate a personal watercraft and at least 18 to rent one.
Unlawfully allowing someone under 14 to operate a personal watercraft is a 2nd-degree misdemeanor crime. Rental facilities are not allowed to rent any vessel that doesn't have the property safety equipment onboard or that exceeds the load capacity. Pre-rental or pre-ride safety instruction is required if a rental company is lending out a vessel with a motor of 10 horsepower or more. All boating rental facilities must display their safety information in a place that's visible to renters. All renters must present their boating education ID or its equivalent before the facility can rent to them.
Anyone born on or after Jan. 1st, 1988 must pass a National Association of State Boating Law Administrators' approved boating education course or its equivalence. Kids under 6 must wear a life jacket aboard any boat less than 26-feet long.
What Can I Do If I Was Injured in a Boating Accident?
If you're injured in a Key West boating accident, you may have several options, depending on the circumstances.
Boat owners and boating rental companies often carry some type of insurance. Although boating insurance isn't required by Florida, anyone who doesn't own the vessel outright is probably required to carry it by the bank. This is separate from homeowners' or auto insurance. Watercraft liability insurance (sometimes listed as protection and indemnity) includes bodily injury coverage which can compensate victims for medical costs, lost wages, pain and suffering, and wrongful death if the covered operator is at-fault in a boating accident.
If the boat owner or rental company was not properly insured, you may be able to pursue a claim against them personally.
It's important if you or a loved one is injured in a Key West boating accident that you contact an injury lawyer as soon as possible to explore your legal options.
If you are injured in Fort Myers, Port Charlotte, Sarasota, Cape Coral, Naples or Key West, contact Garvin Injury Law at 800.977.7017 for a free initial consultation. 
Additional Resources:
Boating Accident Statistical Reports, FWC
More Blog Entries:
2020 Florida Boating Accident Statistics Released by FWC, July 16, 2021, Key West Boat Accident Lawyer Blog