Sarasota Car Accident Lawyer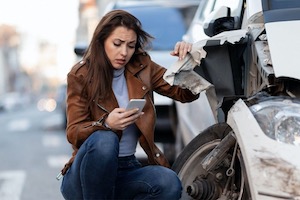 Sarasota is a beautiful seaside city, humming with exciting cultural scenes, powder-fine beaches and lots of friendly folks. But the bustling thoroughfares of Fruitville, Bee Ridge, Clark, and Proctor Road, as well asTamiami Trail (U.S. 41) are no stranger to the sudden crunch of colliding vehicles.
Distraction, impairment, fatigue, inexperience - all these play a role in Sarasota car accidents.
If you're injured in a crash, our dedicated Sarasota car accident lawyers can help you investigate the incident, identify all defendants, file claims for damages, and if necessary, pursue litigation.
Sarasota Car Accident Statistics
The Sarasota County Sheriff's Office handles the majority of crash case investigations in the county. According to data from a single recent year, there were a rough total of:
11,000 reported car accidents
900 DUI-related crashes
60+ traffic deaths
Motorcyclists, bicyclists, and pedestrians make up a disproportionate percentage of Sarasota traffic deaths. Nearly 1,400 crashes involved hit-and-run drivers, resulting in 300 injuries and 2 deaths.
The Florida Department of Highway Safety and Motor Vehicles reports there are an average of 3,310 car accident injuries in Sarasota each year.
The National Safety Council reports that while crashes between two or more vehicles (as opposed to a single vehicle and a fixed object) account for less than half of the total, they're cited in 80 percent of injuries.
Avenues of Compensation in Sarasota Crash Cases
Florida (for now) is one of the few remaining no-fault states when it comes to car accidents. What that means is pursuant to F.S. 627.736, all state-registered vehicles must be insured with personal injury protection (PIP). This provides up to $10,000 in coverage for the insured for medical bills (up to 80 percent) and lost wages (up to 60 percent) related to the crash, regardless of fault.
But "no-fault" doesn't mean no one can be faulted for the crash or that you can't pursue damages from the negligent driver. It just means that it's likely your own insurer that will pay the initial losses. If you're driving your own car from out-of-state, you might not even have PIP coverage. If you're driving a motorcycle registered in Florida, you also won't have PIP. Our experienced legal team can look carefully at the policies involved to determine where you should start.
Other types of insurance coverage that may apply in your case:
Liability or Bodily Injury Liability Coverage. BI coverage is insurance vehicle owners/drivers purchase to cover the cost of someone else's injury as a result of the insured's negligence. Lots of drivers have BI coverage. However, unlike many states, Florida does not strictly require it except in some cases where the driver has a poor track record (DUIs, prior crashes, etc.). In lieu of BI coverage, drivers can sign a financial responsibility waiver attesting they have the personal assets to cover up to $10,000 for one person's injuries and $20,000 to cover the injuries of two or more people.
Property damage insurance. S. 342.022 requires drivers to carry a minimum of $10,000 in property damage liability coverage.
Medical payment insurance. This is also called Med Pay. It's similar to PIP in that it's no-fault coverage for the cost of necessary medical treatments. Not many drivers in Florida carry this because it's redundant with PIP and health insurance.
Uninsured/underinsured motorist (UM/UIM) coverage. This is a critical type of insurance for Florida drivers which kicks in when the at-fault driver doesn't have insurance, hasn't been located (hit-and-run) or lacks adequate insurance to cover the full extent of one's losses. Considering 1 in 4 drivers in the Sunshine State is uninsured and 25 percent of crashes involve a hit-and-run, this kind of coverage is pivotal. Yet similar to BI, it's not strictly required by the state. It does, however, come standard with most auto insurance policies, and insureds have to sign a written waiver foregoing
Umbrella coverage. Sometimes referred to as excess coverage, this is usually carried by corporations or people of means with collectible assets. Umbrella coverage helps to further protect their assets in case the amount of damages in a car accident is higher than standard auto insurance policy limits.
This isn't an exhaustive list of your options, and you may be limited to only a few of them. Every crash case is different. What doesn't change is our commitment to our clients.
It's important never to assume that just because you or the other driver has insurance that actually obtaining a fair payout will be a breeze. Auto insurers are most concerned with their own bottom line. As skilled Sarasota car accident lawyers, we're dedicated to fighting for the best possible outcome on your behalf.
For more than 50 years our firm has been dedicated to the mental, physical, and financial recovery of our clients here in Florida after a car crash, physical injury, or wrongful death.
From our office in Sarasota all the way to Key West you can be assured that if you hire our firm of dedicated professionals that you will be much more than a number and that we will do our best to represent you as if it was our own family member who had the unfortunate fortune of being injured in a Sarasota Car Accident.
Contact Garvin Injury Law, personal injury lawyers in Sarasota, Fort Myers, Naples, Port Charlotte, and Key West today at 942.297.0005, or online for a free case review.