Jet Ski Accidents
Florida Personal Watercraft Accident Lawyer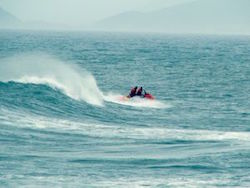 Waverunners, Jet Skis, and other personal watercraft continue to grow in popularity, particularly along the Southwest Florida coastline, where rental crafts often line the sand.
At the Garvin Law Firm, our personal watercraft accident attorneys in Fort Myers and Naples routinely represent victims of personal watercraft accidents throughout Florida, including the Florida Keys (Key West). After an accident it may be possible to bring a claim against a negligent PWC operator but that is not always the only possible defendant. Even when a rental customer signs a liability waver, a business can still be responsible, particularly when renting unsafe, poorly-maintained or defective equipment. The company can also face consequences if they rent during unsafe weather conditions or to someone who is underage, intoxicated or clearly lacks the skills needed to ride safely.
Today, there are more than 100,000 Waverunners, Jet Skis and personal watercraft along South Florida's shoreline. Personal watercraft now account for 13 percent of all registered vessels in Florida, according to the Florida Fish and Wildlife Conservation Commission's Division of Law Enforcement (FWCC).
PWC's are involved in 20 percent of all boating accidents – or about 125 reported accidents each year. Nearly half of those accidents involve collision with another vessel. One-third of all personal watercraft accidents in Florida occur in Monroe, Pinellas and Miami-Dade counties.
Florida Watercraft Accidents: Personal Injury & Wrongful Death
Many PWC accidents resulted in very serious injuries and even death. Lacerations, broken bones, head injuries and back injuries were among the leading injuries reported.
The counties with the most accidents are also the counties with hundreds of personal watercraft for rent:
Monroe: 322
Pinellas: 160
Miami-Dade: 297
Lee: 158
Okaloosa: 209
Duval: 42
Palm Beach: 65
Bay: 246
Broward: 79
Collier: 183
In fact, while rental units account for only 2 percent of the personal watercraft on the water, they account for 40 percent of accidents. Riders on borrowed watercraft are responsible for another 25 percent of accidents. The most well known PWC manufacturers are Kawasaki (Jet-Ski), Bombardier (Sea-Doo), Yamaha (Waverunner), and Polaris.
Top Causes of South Florida Personal Watercraft Accidents
Collision with vessel
Collision with fixed object
Falls
Rental agencies (most often located in areas like Captiva, Sanibel, Marco Island, Fort Myers Beach, and Key West) must ensure their equipment is free from defects, properly maintained and in good working order. Users must be properly trained, not under the influence of alcohol or drugs, and of a proper age to operate the equipment safely. State statistic show that 30 percent of serious and fatal accidents are reported in accidents involving riders under the age of 21.
If you have been involved in a South Florida watercraft accident, contact the Garvin Law Firm for a free and confidential consultation to discuss your rights.
Fort Myers – 239.277.0005
Naples – 239.267.5657
Key West – 305.791.6555