Motorcycle Accidents
Fort Myers Motorcycle Accident Lawyers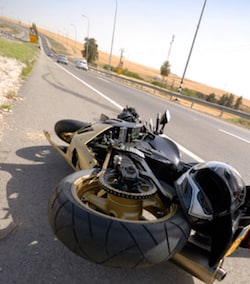 Due to the vulnerability of a motorcycle a Florida rider is much more likely to be seriously injured in even the slightest accident with any type of vehicle. Without the protection of a steel cage or airbags, the severity of these injuries is likely to be catastrophic and could even result in death of the rider.
These injuries can occur even when the rider operates his or her bike with the utmost concern for safe riding. This is due in part to the decreased visibility of a motorcycle with only two wheels and less lighting than even the smallest of automobiles.
Under Florida motorcycle accident law, an injured rider is able to recover for any and all damages that are caused by another vehicle. Given the fact that insurance is generally not required to register a motorcycle in Florida it may be a necessity to recover damages from the at fault driver. These damages can include: property damage, medical bills, pain and suffering, and lost wages.
If you or a loved one is injured, or killed, while riding a motorcycle, it is important to contact an experienced motorcycle accident attorney as soon as possible do determine if there is a legal cause of action. Consulting a lawyer early would help to preserve any evidence before it is lost or destroyed, and get the injured party to an appropriate medical provider.
Over the years the Garvin Law Firm has had the opportunity to represent many victims of negligence who were riding a motorcycle at the time of injury.
Feel free to browse the resources below then contact the Garvin Law Firm today.
Florida Motorcycle Accident Legal Resources
Florida Highway Safety and Motor Vehicles Website
Florida Rider Training Program. This site provides a wealth of information regarding the operation of a motorcycle, as well as scooters and mopeds, in the state of Florida. The website covers all types of topics including: insurance, helmet exemption, to safety courses.
Insurance Institute for Highway Safety, Highway Loss Data Institute Website
The Insurance Institute for Highway Safety is an independent, nonprofit, scientific, and educational organization dedicated to reducing the losses — deaths, injuries, and property damage — from crashes on the nation's highways.
American Motorcyclist Association Website
The official site of the American Motorcyclist Association.
The Motorcycle Riders Foundation (MRF), incorporated in 1987, is a membership-based national motorcyclists' rights organization headquartered in Washington, D.C. The MRF monitors and when necessary, sways federal legislation and regulatory action that pertains to street riders.