Sarasota Personal Injury Lawyer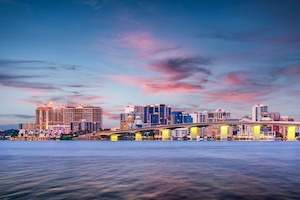 Sarasota is a city of acclaimed cultural attractions, illustrious beaches, and rapid growth. Situated on the Gulf of Florida, south of Tampa Bay and north of Fort Myers, it's home to 55,000 full-time residents. It's also the prime destination of more than 2.2 million tourists visiting Sarasota County every year. The city's motto is, "Where urban meets small-town living." Major draws are The Ringling museums and galleries, Siesta Key (ranked No. 1 U.S. beach in 2020), the Sarasota Museum of Art, aquatic parks, sports stadiums, and a host of annual art and film festivals.
While there is certainly much to enjoy about this fine community, our Sarasota personal injury lawyers recognize it's not without its fair share of potential hazards. Some of these are the typical risks one might encounter in any city (car accidents, pedestrian accidents, slip-and-fall injuries, etc.). Others are more specific to its identity as a vacation hub.
Examples of Sarasota injury cases include:
Bicycle and pedestrian accidents.
Motorcycle accidents.
Trolley accidents.
Bus/shuttle accidents.
Boating accidents.
Jet ski accidents.
Scooter accidents.
Hotel injuries.
Premises liability (slip-and-fall, dangerous property conditions, inadequate security/third-party criminal attacks, etc.).
Medical malpractice.
At Garvin Injury Law, as lifelong Southwest Florida residents and longtime Sarasota personal injury lawyers, we recognize no one plans on getting hurt while on vacation, during a night out or simply running errands. Nonetheless, these things happen - usually as the result of another's failure to use reasonable care. In these situations, it's imperative that injured parties seek immediate medical treatment. From there, they should promptly contact a local injury attorney who can help them navigate the civil claims process in Southwest Florida.
Injury Claims in Sarasota
State-level civil court cases in Sarasota are handled by the 12th Judicial Circuit court. Appeals are heard by Florida's 2nd District Court of Appeal. Federal claims are handled in the U.S. District Court for the Middle District of Florida. However, most Sarasota injury cases are filed at the state level, and the majority don't make it to trial - let alone an appellate court.
Often when you're working with an experienced lawyer, it may not even be necessary to file a Sarasota injury lawsuit. Matters can be settled fairly through negotiations with insurers. We investigate the claim, evaluate the extent of your injuries and losses, and send a demand letter to liable parties/their insurers. From there, settlement negotiations begin. Because we know how to determine the true value and strength of your claim, we can help ensure you aren't pressured into a low-ball settlement. It's only if insurers refuse fair settlement terms that we advise clients to press ahead with litigation.
That said, it's wise to hire an attorney who is prepared to take the matter to court if necessary. When defendants and their insurers recognize you're working with a lawyer who has a successful track record of civil injury case wins, they tend to take settlement talks more seriously.
Even if you are partially at-fault for what happened, Florida is a comparative fault state. That means your shared blame for the accident may proportionately reduce your damages, but it won't eliminate your right to collect compensation from other responsible parties.
Note: You do not have an endless amount of time in which to file an injury lawsuit in Florida. The statute of limitations on most injury claims is four years from the cause of action (usually time of injury). However, if the defendant is a government agency or medical professionals, your filing deadline will be tighter and there may be more stringent notice requirements. Wrongful death in Florida cases must be filed within two years.
Our Sarasota injury attorneys are committed to identifying all of your options for compensation and advocating fiercely on your behalf for a fair payout. Florida injury lawyers are paid on a contingency fee basis, meaning you do not pay attorney's fees unless and until you win.
Contact Garvin Injury Law, personal injury lawyers in Sarasota, Fort Myers, Naples, Port Charlotte and Key West today at 239.277.0005, or online for a free case review.