Fort Myers Injuries From Car Accidents Lawyer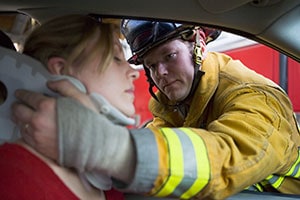 If you have sustained an injury in a Fort Myers car accident, your immediate concern is medical attention. You will also want to bear in mind to limit statements made to police investigators, other witnesses, and especially insurance adjusters. You may have a valid claim for damages against one or more parties. However, it will be up to you to prove your case.
Our Fort Myers car accident injury attorneys are committed to assisting crash victims in obtaining compensation for all losses. Early involvement of an attorney is typically one of the best ways to achieve a fair resolution. It may not even require litigation. Sometimes, insurers quickly recognize the true value of a claim and pay in a timely manner. However, with more serious injuries, the full scope of the injury and lasting impact is not even knowable in the initial aftermath.
Proving Crash-Related Injuries
Information gathered in preparation for a claim can include:
Police reports;
Closed-circuit video footage from local businesses;
Scene footage (videos, pictures) from smartphones;
Witness statements;
Vehicle maintenance records;
Social media records;
Text message details;
Blood-alcohol and drug test results.
Driving records
Sometimes, evidence may require a subpoena to obtain. The earlier we are on the case, the sooner we can make requests.
Common Motor Vehicle Accident Injuries
Injury patterns vary depending on the type of crash, the size disparity of vehicles involved, speed, and many other factors.
Examples of common car accident injuries in Florida crashes include:
Soft tissue injuries. Muscles, ligaments, tendons, most involving the upper body, including the neck (known commonly as "whiplash").
Scrapes and cuts. These may seem minor, but they expose drivers and passengers to scarring and infection. Motor vehicle occupants may be especially susceptible, thanks to the numerous projectiles in vehicles (keys, phones, GPS systems, purses, etc.).
Chest injuries. Contusions and bruises may be the most common and can include internal injuries and broken ribs or a broken collarbone.
Leg and arm injuries. Side impact to arms and legs are common because your limbs are in cramped quarters, and they are being thrown about with high-velocity in a crash. This can result in fractures or joint damage, and recovery periods can be lengthy.
Head injuries. These are among the most dangerous - and most commonly overlooked. Someone who suffers a blunt trauma head injury resulting in a concussion may not immediately have symptoms. That is why it is so essential to be checked by a medical professional, and report all symptoms as accurately as possible, even if you think "it's nothing."
The severity of your injuries will not necessarily dictate whether you have a claim (though you cannot file a claim without incurring some monetary loss), but careful documenting of all injuries and associated costs is critical to obtaining just compensation.
Serious Injury Threshold
Florida is a no-fault state when it comes to auto insurance. What that means is regardless of who is to blame, your own auto insurer will be responsible for providing personal injury protection (PIP) coverage, as outlined in F.S. 627.736. This coverage is required for all motorists and may extend to your passengers (who may also have their own coverage) and sometimes to third parties (in the event of a pedestrian or bicycle accident).
This will cover a maximum of $10,000 in medical and disability benefits and $5,000 in death benefits. Anyone who has ever been in a serious crash with major injuries knows this is hardly enough. Florida does not require bodily injury liability coverage of all drivers, but most drivers who are insured do have it, as well as uninsured/underinsured motorist coverage.
Per F.S. 627.730-627.7405, any tort action brought against an owner, registrant, or occupant of a motor vehicle (or any person/organization responsible for the drivers' acts/omissions) must meet the following serious injury threshold:
Significant and permanent loss of an important bodily function;
Permanent injury within a reasonable degree of medical certainty;
Significant and permanent scarring or disfigurement;
Death.
Injuries that keep you out-of-work for an extended time qualify, but your injury lawyer in Fort Myers can help you determine if your condition meets the legal threshold to pursue damages from an at-fault party.
Call or email the Garvin Injury Law today for a free consultation, and we will evaluate your claim and determine the appropriate course of action. We have offices in Fort Myers, Naples, and Key West. We have been handling auto accident cases in Fort Myers, Florida for over 30 years.