Fort Myers Storefront Crash Cases Lawyer
Fort Myers Car Accident Lawyers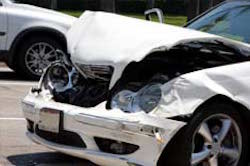 Crashes into commercial, retail, or public buildings happen more than 60 times daily in the U.S., causing as many as 500 deaths and more than 4,000 serious personal injuries a year. Despite these figures from the Storefront Safety Council, storefront crashes in Florida still tend to be viewed as a "freak accident." The truth of the matter is these incidents are always preventable. In many cases, both the driver and the property owner can be held responsible for negligence resulting in injuries.
At Garvin Injury Law, our car accident attorneys fight for those injured in storefront car accidents, many of whom are entitled to compensation for medical bills, lost wages, pain and suffering, and other damages.
Most storefront car crashes are the direct result of driver error, as well as the fact that businesses orient themselves toward the parking lot or street, with entrances facing the front for maximum visibility. That may be a good advertising strategy, but it is not necessarily the safest for customers entering and exiting the property or those merely passing by. Simple solutions exist – such as the installation of bollards and other barriers – but are often overlooked or ignored.
Causes of Florida Storefront Crashes
The frequency of storefront crashes means business owners generally cannot avail themselves of the defense that such an incident was unforeseeable.
The Storefront Safety Council reports most of these incidents occurred at:
Retail stores – 24 percent
Commercial building – 23 percent
Restaurant – 19 percent
Convenience store – 7 percent
Office – 7 percent
Other potential locations include transit stops, public areas, hotels, and other non-residential structures.
A significant portion of these crashes – 20 percent – involve motorists between the ages of 20 and 29, with driver distraction, cited as a common cause. The prolific use of smartphones is largely blamed for the sharp spike in these incidents. However, more than one-third of these collisions involve drivers over the age of 70, with 29 percent involving drivers over the age of 80.
Researchers identified the top causes of these collisions as being:
Operator error – 30 percent
Pedal error – 26 percent
DUI – 17 percent
Traffic Accident – 11 percent
Medical – 8 percent
Ram-raid (a type of burglary) – 7 percent
Other statistically significant causes (which may be lumped into the operator error category) include reckless driving, falling asleep at the wheel, hazardous weather conditions, speeding, vehicular assault, and mechanical failure.
The cause of the incident may dictate the type of injury claim.
For example, if the storefront crash is caused by operator error, you may have a claim for damages against the driver of the car, the owner of the car (vicarious liability), and the property owner. However, if it is determined a medical incident was the cause of the crash, you may or may not have grounds to pursue damages against the driver, but that would not necessarily impact your claim against the property owner.
If mechanical failure was partially to blame, you might have grounds to pursue a product liability claim against the manufacturer of the vehicle or a specific malfunctioning part.
Property Owner Liability in SWFL
Property owners owe a duty of care to keep the property reasonably safe for those who are lawfully on site. This is particularly true if visitors are business invitees, meaning they have been invited onto the site for the financial gain of the business. When property owners breach this duty of care, claims for damages can be pursued under a legal theory known as premises liability.
It is a well-established Florida law, as noted in the 1992 Florida Supreme Court decision in McCain v. Florida Power Corp., that when a defendant creates a foreseeable zone of risk, the law will generally recognize a duty placed upon the defendant to either lessen the risk or take sufficient precautions to protect others from the harm that risk poses. Evidence of prior similar incidents can be used to establish the owner/operators' actual or constructive notice and prove foreseeability. As more storefront are reported, the more plaintiffs are taking these cases to trial and finding they have stronger grounds to assert the risk was foreseeable, and the property owner owed a duty to mitigate it.
Although property owners cannot control the actions of every driver on the nearby street or those who enter the parking lot, they can weigh the potential likelihood of such an incident in both the design of the store (i.e., no head-in parking facing storefronts, sidewalks, curbs, outdoor dining areas, etc.) and the installation of bollards, wheel stops and other adequate barriers and space.
Certain types of buildings are required to have barriers, but some Florida communities have written express requirements into the building code for bollards and barriers. For example, Orange County, FL ordinance requires childcare facilities to have safety barriers in exposed areas. Miami-Dade, Florida ordinance requires head-in parking directly adjacent to a storefront be equipped with concrete security planters with a minimum depth of 40 inches, and buildings located with ground-floor windowsills must be placed at 24-to-48 inches above the grade.
We also know that ASTM F4106, a standard set forth by the American Society for Testing and Materials, certifies the effectiveness of any tested barrier from the impact of a 5,000-pound vehicle at speeds of up to 30-miles-per-hour. Failure of a business to install devices that conform to this standard could be evidence the property owner breached the standard of care.
Government agencies may also be held liable under similar grounds as businesses. However, such cases innately carry more challenges – another reason it is imperative to work with an experienced car accident attorney in Fort Myers.
Motor Vehicle Driver Liability
Of course, the driver, too, bears responsibility for negligence conduct.
Florida does not technically require bodily injury liability for drivers, though financial responsibility laws require drivers to be responsible for at least $20,000 per crash, and most insurers will not sell a policy without minimum bodily injury liability limits. The law may also require coverage for drivers who have previously been in crashes, have several points on their license, or are cited for DUI, resulting in license revocation.
For this reason, it is imperative for victims of storefront crash cases in Fort Myers, Cape Coral, and beyond to identify all potential defendants and work with a skilled injury attorney. With limited exception, Florida's comparative fault law provides for apportionment of damages in negligence cases to each party's percentage of fault. So, for instance, if the store owner is found 30 percent at-fault and the driver 70 percent, they would each be compelled to pay their own respective portion of the damages.
Contact the Garvin Injury Law car accident attorneys in Fort Myers today at 239.277.0005 or online for a free case review.