Florida Motorcycle Helmet Law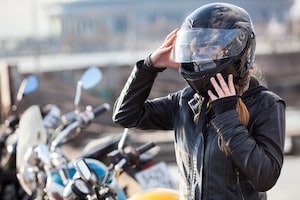 The Florida motorcycle helmet law has been the subject of intense controversy over the years. As it stands, state law does not require motorcycle riders over the age of 21 to wear a helmet – assuming they abide by other insurance requirements.
At Garvin Injury Law, we fully respect the right of adult operators and riders to make their own choice on this, and we are dedicated to fighting for the best possible outcome for every motorcycle accident client.
That said, the empirical evidence does not leave a great deal of room for many opinions on the effectiveness of motorcycle helmets. More to the point, not wearing a helmet might impact your claim for civil damages after a crash (though it will not bar it). This, combined with the fact that motorcycle crashes often result in serious injuries, is why you must hire an experienced injury lawyer if you are hurt.
Florida Helmet Law History
Prior to 2000, all motorcyclists and passengers in the sunshine state were required to wear a helmet. Most states, at one point, had a universal helmet law. That was primarily because, in the late 1960s, the federal government mandated states to enact one if they wanted to qualify for certain safety and road construction funding. In less than a decade, all but three states had universal helmet laws, which require helmets for everyone on a motorcycle.
It only took a few years, however, before states began repealing and weakening their helmet laws. The federal government tried again, with Congress in 1991 approving monetary incentives to states with helmet laws. However, it reversed course within just a few years.
In Florida, several court cases in the mid-to-late 1990s challenged the state's helmet law on the grounds of vagueness and unconstitutionality. In 1998, Florida's Second District Court of Appeal ruled in State v. Raynal that the universal helmet law was unconstitutional because motorcyclists were not aware of what conduct was illegal. The law required the state Department of Highway Safety and Motor Vehicles to publish lists of protective equipment. Still, the department's lists were many years out-of-date and useless to buyers of newly-manufactured helmets.
This was followed by the enactment of F.S. 316.211(3)(b). It only mandates helmets for operators and riders under 21 and those who do not have an insurance policy providing at least $10,000 in medical benefits for injuries incurred due to a crash while operating/riding a motorcycle. All motorcyclists, regardless of insurance, are required to wear an eye-protective device.
Today, 18 states and the District of Columbia have universal helmet laws. Another 29, like Florida, have laws that cover some riders (usually those younger than 21 or 18). Three states do not have any helmet requirements.
How Not Wearing a Helmet May Impact Your Claim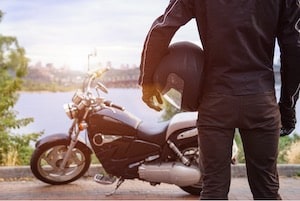 In most cases, you can receive compensation for injuries sustained in a motorcycle accident, even if you were not wearing a helmet. However, it could lower your ultimate recovery.
If you own a car in Florida, you are probably aware that you are required by state law to carry personal injury protection (PIP) insurance under F.S. 627.736. PIP insurance provides no-fault coverage of up to $10,000 in medical and wage loss benefits. It is only if one's injuries are serious enough that they can step outside that no-fault system and sue another driver for damages.
But standard PIP is not available to motorcycle owners, and the no-fault law does not apply to motorcycles. You can opt to purchase medical payments coverage that would work in much the same way PIP would, but that often is not enough in motorcycle accident cases. That means motorcycle drivers must pursue compensation from the other driver's insurer to recover medical bills, lost income, pain and suffering, and property damage.
The fact of whether a rider was wearing a helmet or not will not bar a claim, but it could reduce the damages to which one is entitled if failure to do so exacerbated your injuries. This is called "the helmet defense." Florida adheres to the legal doctrine of pure comparative fault. What that means is if you are deemed partly responsible for your injuries, the amount you receive will be proportionately reduced.
For example, if another driver is negligent in colliding with you on your motorcycle, they could be held liable for the crash and responsible for paying damages. However, if you were not wearing a helmet and the court determines your injuries would not have been as serious if you had been wearing one, it might choose to find you comparatively negligent. If you are 30 percent liable and you sustained a total of $150,000 in damages, you would only be entitled to collect $105,000 – a reduction of 30 percent.
For this reason, plus the fact that riders who do not wear helmets can suffer more severe injuries (particularly head trauma), it is critical that you discuss your injury case with an experienced motorcycle accident lawyer as soon as possible. We know the challenges associated with the helmet defense in Florida motorcycle accident cases and are committed to helping you overcome them and fighting for full compensation on your behalf.
Contact Garvin Injury Law motorcycle accident attorneys in Fort Myers today at 239.277.0005 or online for a free case review.