.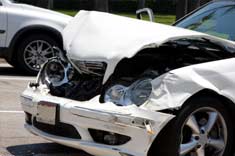 Every year in Florida there are thousands automobile accidents, many of which result in serious injury or death. Because of the complexities of insurance law and the potential loss of valuable evidence, it is extremely important that you take immediate action to protect your right to be compensated for your losses.
What to do if you are involved in an accident
Request and receive immediate medical attention for your injuries. Arriving at the hospital by ambulance assures that you will receive the fastest care possible.
Do not give a statement to anyone other than law enforcement officers without an attorney present on your behalf.
Arrange for photographs of the scene and the vehicles involved in the accident.
Have a family member photograph all injuries and, to the extent possible, the medical treatment being provided to you.
Do not sign any documents giving possession of your vehicle to any insurance companies without the approval of your attorney.
Keep a record of all medical and other expenses in any way related to your injuries.
As soon as practical, consult an attorney of your choice to represent you.
Florida Automobile Insurance
There are five (5) different types of automobile insurance coverage that may apply to an automobile accident:
Liability, which insures you in the event that someone else is hurt as a result of your negligence.
Uninsured Motorist Coverage, which insures you in the event that someone else who injures you is either uninsured or underinsured.
Property Damage Insurance, which insures you in the event that you cause damage to the property of others.
Comprehensive Insurance, which provides coverage to you for damage to your vehicle, theft, and loss of use of your vehicle
Personal Injury Protection which provides a total of $10,000.00 in insurance coverage to you that can be used to pay up to 80% of your medical expenses and 60% of your lost wages, along with death benefits in the amount of $5,000.00. Personal Injury Protection insurance is part of Florida's no-fault insurance system. Under this no-fault system, an injured party is permitted to receive up to the $10,000.00 benefit for injuries or damages from their own insurance company regardless of who was at fault.
When the no-fault insurance system was enacted in 1972, it was supposed to lower state-wide auto insurance premiums. Unfortunately premiums have steadily risen since then. In exchange for the claimed reduction in premiums, limitations on the right to sue for injuries received in an automobile accident were imposed.
In order to file a lawsuit that includes a claim for pain and suffering, the injured party must show proof that one of the following is present.
Significant or permanent loss of an important bodily function
Injury that is permanent within a reasonable degree of medical certainty
Significant and permanent scaring or disfigurement
Death
Important Time Periods For Pursuing Claims Related to Automobile Accidents
Florida law provides for a four (4) year statute of limitations in auto accident cases with the time period beginning to run on the date of the accident. If you wish to further pursue this matter, do not delay because delay might jeopardize your legal rights. If an action is not filed within the appropriate time frame, you will forever be barred from doing so. Additionally, in the event that the accident caused someone's death, the personal representative of the deceased person would have only two(2) years from the date of the death within which to pursue the claim.
Contact the Garvin Law Firm today for a free consultation and we will evaluate your claim and determine the appropriate course of action.
-Fort Myers Car Accident Lawyers Webpage-
-Fort Myers Auto Crash Attorneys Information-