Wrongful Death Boating Accidents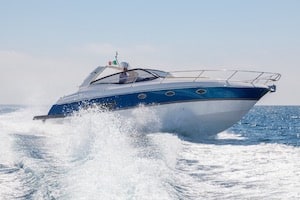 Florida is a boater's paradise, with nearly 1,400 miles of coastline and 4,500 square miles of inland waterways and endless summers. But Florida also leads the nation in deadly boating accidents.
In a single recent year, the U.S. Coast Guard reported nearly 4,200 boating accidents and more than 500 deaths. That same year in Florida, the Florida Fish & Wildlife Commission (FWC) reported more than 720 boating accidents and 66 deaths.
As our South Florida wrongful death attorneys can explain, boating accidents are considered "reportable" if:
Someone dies.
Someone disappears under the circumstances indicating injury or death.
Someone is injured and requires treatment beyond first aid.
There is at least $2,000 of aggregate property loss.
Florida has such a high boating accident fatality rate because we have so many boats. More than 950,000 vessels are registered in the sunshine state, and that number has been climbing over the last decade.
When Boating Accidents are Deadly
Although boating is a way of life in Florida, it can also be deadly under some circumstances.
Boating accidents result in thousands of injuries and hundreds of deaths annually in the U.S. Although each case has its own unique set of facts, the FWC reports:
Around 80 percent of boating operators involved in fatal boat accidents lacked safety training.
The No. 1 cause of death was drowning, and 85 percent of those who died were not wearing life jackets.
Open motorboats have the highest rate of fatality.
More than 80 percent of the vessels involved are owned, as opposed to renting.
Ninety-eight percent of the time, a male is operating the boat.
Nearly 9 out of 10 victims are Florida residents.
Operator alcohol and drug use are cited about a quarter of the time.
The top causes of fatal Florida boating accidents are:
Alcohol use.
No proper lookout/inattention.
Machinery failure.
Operator inexperience.
Speed.
Other causes include hull failures, sharp turns, overloading, and weather. The vast majority of fatal Florida boating accidents occur in state waters.
Lee, Collier, Monroe, and Miami-Dade are consistently listed in the top 5 for fatal boating accidents in the state.
Liability in Fatal Florida Boating Accidents
Suppose you are injured in a boating accident in Florida. In that case, you may have grounds to file a personal injury lawsuit against the individual or business believed responsible for causing the accident. This may include the following:
Boat operator.
Boat owner.
Boat manufacturer.
Manufacturer/distributor of safety equipment.
In most fatal boating accidents, the operator is responsible. Boat operators in Florida have a legal responsibility to exercise reasonable care to minimize the risk of danger to passengers and others sharing the waterway. Failure to do so, resulting in injuries, is called negligence.
Plaintiffs in Florida wrongful death boating accidents against boat operators need to show a failure to exercise reasonable care resulting in injury amounting to financial damages.
If the boating operator was under the influence of alcohol or drugs, there might be grounds to assert negligence per se, which is negligence as a matter of law. Such a claim arises when a person operating a boat is doing so in violation of F.S. 327.34, the state's law against boating under the influence (BUI). It is very similar to the state's DUI statute, requiring evidence that one has a blood-alcohol concentration of 0.08 percent or more or is under the influence of any drug to the extent his/her normal faculties are impaired.
Florida Wrongful Death Claims
There are situations in which individuals have a responsibility to rise to certain duties. Operating a boat is one of them. If someone's failure to rise to those duties results in the death of another person, they can be held legally liable in civil court for those damages.
Florida law stipulates that the decedent's estate representative must file the claim, someone either named in a will or appointed by the court. That claim is filed on behalf of surviving family members, who may include:
Decedent's spouse, children, or parents.
Any blood relative or adoptive sibling, partly or wholly dependent on the decedent for services or support.
No legal claim will bring back someone who is lost, but there are still reasons to file a wrongful death claim after a boating accident. The first is that wrongful death lawsuits help relieve survivors of a sudden death's financial burden, including funeral expenses, the decedent's lost wages, any medical expenses incurred, and pain and suffering.
Secondly, such claims are a means of accountability, particularly if the negligent parties were not criminally charged for their role in your loved one's death. Criminal cases are about violations of law, whereas civil claims are about holding people and businesses responsible when they fail to use reasonable care, and it hurts someone. Monetary damage awards can also serve as a deterrent for reckless or careless actions.
Defendants in a Florida wrongful death boating accident claim might include:
The negligent operator of the boat.
The owner of the boat.
The manufacturer of the boat (if there was a mechanical error or other malfunction)
The rental company
Other passengers who acted negligently or recklessly (i.e., throwing someone overboard without a life vest, etc.)
In Florida, you have two years under F.S. 95.11 in which to file a wrongful death claim. That is the simple rule, but there can be exceptions (namely against government entities). There are additional limitations of damages actions that may be filed in federal court that can shorten this timeframe and limit the available damages to the value of the vessel. Given these and other limitations, it is wise to have an attorney examine your case's facts as soon as possible to ensure you do not miss any filing deadlines.
Contact Garvin Injury Law boat accident wrongful death attorneys in Fort Myers today at 239.277.0005 or online for a free case review.