Venice Car Accident Lawyer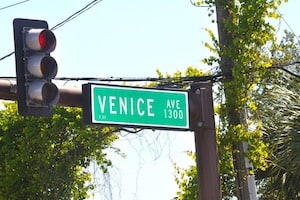 The downtown roads in Venice, Florida - a city of 26,000 residents in Sarasota County - are lined with structures styled in the Northern Italian Renaissance fashion, mirroring its more famous European eponym. These idyllic stretches can make for pleasant drives on sunny Sunday afternoons spent running errands or en route to popular local beaches. But drivers would do well to stay alert and cautious - not just downtown, but throughout this growing Gulf Coast City - given the sharp rise in Venice car accidents in recent years.
The Venice Police Department reports the number of crashes in their jurisdiction has more than doubled in the last five years. More than 35 crashes are reported on average each month - more than one a day - and that doesn't include crashes that occur on I-75 or in local parking lots.
In all of Sarasota County, the Florida Department of Highway Safety & Motor Vehicles reports more than 6,600 crashes each year, resulting in 3,800+ injuries and 60+ fatalities.
Whether a local, a visitor, or just passing through, if you're involved in a crash caused by someone else, it's important to consult with an experienced Venice car accident lawyer who will commit to fighting for full and fair compensation for your losses.
It's true that Florida is a no-fault state when it comes to auto insurance (per F.S. 627.736) - but that assumes you have the state-mandated personal injury protection (PIP) coverage. Most out-of-state drivers don't, unless their state requires it or they purchased it when they rented a car in Florida. But even if you have PIP, that only covers up to $10,000 in medical bills and lost wages. In any case, it's still possible to obtain compensation from at-fault drivers for crash-related injuries that are serious or fatal.
Venice, FL Dangerous Roads and Common Crash Types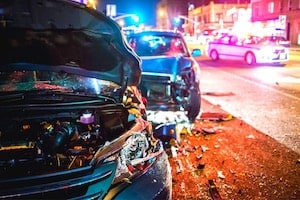 The vast majority of crashes are caused by driver error, and they are preventable.
Roads where Venice car accidents are most likely to occur include:
East Venice Avenue
South Tamiami Trail
East Laurel Road
Pinebrook Road
North Venice Bypass
East Venice Avenue is by far the most dangerous road for motorists, pedestrians, and bicyclists, particularly near the intersections of Tamiami Trail, Venice Bypass North, and Live Oak Street.
The most common types of car crashes in Venice include:
Rear-end collisions - 22%
Side-swipe crashes - 12%
Off-road - 10%
Left turn crashes - 8%
Angle crashes - 7%
Bicycle/pedestrian accidents - 6%
The vast majority of reported crashes in the city occur when the weather is sunny, the sky is clear, and the roads are dry. The most common traffic citations issued by Venice police officers are:
Speeding
Failure to obey
Stop sign violations
Careless driving
In analyzing crash causation in a single recent year in Sarasota County, the Public Works Department reported:
85% involved a driver who was operating the vehicle in a careless or negligent manner.
24% involved a driver who failed to yield the right-of-way.
12% involved a hit-and-run driver.
10% involved drivers following too closely.
6% involved drivers who ran a red light or a stop sign.
5% involved drivers who failed to stay in their lane.
5% involved drivers who were distracted.
5% involved a driver who was impaired by drugs or alcohol.
4% involved improper backing.
Hire a Venice Car Accident Lawyer to Fight for You
Florida car accidents can have serious physical, emotional, and financial repercussions that can reverberate for years to come. While we all know careless drivers don't actually intend to hurt anyone, that doesn't change the fact that innocent people pay the price for their negligence.
This is why Florida lawmakers chose not to rely solely on no-fault insurance, instead opening the door to tort claims when the crash impact meets the statutory serious injury threshold, as outlined in F.S. 627.737. As our Venice car accident lawyers can explain, plaintiffs can step outside the no-fault system to assert claims against careless drivers when the resulting injuries involve:
Serious and permanent loss of an important bodily function
Permanent injury within a reasonable degree of medical certainty
Significant and permanent scarring or disfigurement
Death
Crash victims and their surviving loved ones may pursue monetary damages from at-fault drivers and legally responsible third-parties (vehicle owners, employers, alcohol vendors, etc.) if they can show their injuries were substantial and caused by the crash. Examples of car accident damages injured plaintiffs can claim:
Economic damages. These include tangible losses and expenses incurred, including medical bills, lost earnings, vehicle repairs, cost for household services one can no longer afford, medical devices and equipment, transportation costs to treatment and therapies, and estimated future medical expenses.
Non-economic damages. These are intangible losses, both physical and mental. These damages include things like pain and suffering, disfigurement, disability, mental anguish, emotional distress, inconvenience, and loss of life enjoyment. Spouses of crash victims may also have grounds to pursue their own related claim for loss of consortium/companionship.
In drunk driving crashes, one may also pursue punitive damages, which can substantially increase one's total payout and are imposed to penalize the wrongdoer (as opposed to simply compensating the victim).
Contact the Venice car accident attorneys at Garvin Injury Law by calling 800.977.7017 or via our online Contact Us form.