Port Charlotte Car Accidents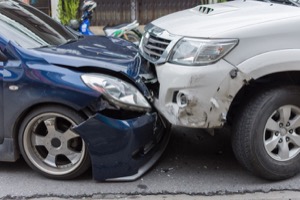 Port Charlotte car crashes are an increasing occurrence in this thriving Southwest Florida community.
An attractive destination for retirees, vacationers, and young families on Florida's Gulf Coast, Port Charlotte is an unincorporated slice of Charlotte County, about halfway between Fort Myers and Sarasota. It boasts more than 150 miles of shoreline, access to the Gulf of Mexico, the Tippecanoe Environmental Park and the Charlotte Sports Park, home to the Tampa Bay Rays during spring training.
It is no surprise that in a community with so much to offer, the local population is growing – about 13 percent in the last decade, according to U.S. Census data. With that comes heavier traffic and a higher risk of Port Charlotte car accidents.
The Florida Department of Highway Safety and Motor Vehicles reports that the recent three-year average of total crashes in Charlotte County is 2,785. About 60 percent of those involve reported injuries. The average number of car accident deaths in Charlotte County is 28 annually, though it has been steadily increasing.
Most Florida crashes ensue by motorists who fail to use reasonable care. Legally, this is known as negligence. The most commonly cited driver offenses resulting in serious injuries or fatalities are:
Driving too fast for conditions (speeding)
Failure to yield the right of way
Operating vehicle in a careless, negligent, or reckless manner
Running a red light/stop sign.
Failure to maintain the proper lane
Improper passing.
Driver impairment by alcohol or drugs is also a serious problem in Charlotte County, accounting for more than 50 serious crashes every year. Motorists who cause crashes while under the influence of alcohol or drugs – even if they have a legal prescription – can be held liable for damages.
Any driver can be held legally responsible for covering your losses after a crash, provided that you can prove:
They were at-fault (at least partially) in causing the crash or exacerbating your injuries.
Your injuries meet the severe injury threshold, as spelled out in F.S. 627.737. You must show you suffered significant and permanent loss of an important bodily function, permanent injury within a reasonable degree of medical certainty, significant and permanent scarring or disfigurement, or death.
Although no law requires you to hire a personal injury lawyer to help you negotiate with the insurance companies, know that Florida car accident attorneys spend years sharpening their skills to be successful and efficient. It requires knowledge of the law, an understanding of how these claims are valued, and a firm grasp on how to challenge the tactics insurers use to pay as little as possible or deny claims outright.
Should I Hire a Port Charlotte Car Accident Lawyer?
Some Port Charlotte car crash injuries may be relatively minor. This may allow you to settle rather quickly with your own insurer for personal injury protection (PIP) benefits, which can pay out as much as $10,000 as outlined in F.S. 627.736. However, sometimes even your own PIP carrier can give you a hard time. An attorney can help expedite the process and ensure you are fairly treated.
When car crash injuries are life-altering – or life-ending – it would be unwise NOT to hire a lawyer. These cases would include things like:
Head injuries
Broken ribs
Severe injuries
Spinal injuries
Internal bleeding or organ damage
Herniated discs
Whiplash
Knee injuries
Survivors often grapple with hefty hospital bills, require extensive time off work, and suffer prolonged disability and overall loss of life enjoyment.
A Port Charlotte car accident lawyer can help you determine:
Who was at-fault. A police report can be compelling evidence, but it is not the last word on fault. This is important because while Florida is a no-fault state for auto insurance, you have the right to sue at-fault drivers (even if only partially at-fault) if your injuries are serious enough. A Port Charlotte car accident attorney can help you figure out if you meet this qualification and identify all possible defendants. Depending on the facts of your case, these may include vehicle owners (if different from the driver), auto manufacturers, auto mechanics, trucking companies, employers, bars that serve alcohol to minors, government agencies, and more.
The extent of your damages. Financial losses (or "damages") go beyond just your hospital and vehicle repair bills. We can look at how much time you lost of work or if you will ever return to your job at full capacity. As well as what type of treatment you will need, the extent to which you have suffered physically, emotionally, and mentally, and how much your relationships with your family have been negatively impacted. An attorney can also carefully review the facts and formulate a strategic challenge to defense claims of comparative fault (the extent to which your actions factored in the crash). Under F.S. 768.81, comparative fault could proportionately reduce the amount of compensation to which you are entitled.
Who can pay? A verdict in your favor will not mean much if no one can pay the bill. Often in a serious crash, it is the negligent driver's bodily injury liability insurance that defends the case and cuts the check. However, if that driver does not have insurance or only carries the bare minimum coverage, you may need other options. One is uninsured/underinsured motorist (UM/UIM) coverage paid by your carrier. Another could be the vicarious liability of employers, vehicle owners, or others.
How to prove your case. Two primary elements must be established in a car accident claim: Liability and damages. You need to show that the defendant's negligence caused your injuries (while successfully challenging any assertion of your shared responsibility). You must also prove how seriously you were hurt and what all this has cost you. We conduct a thorough investigation, meticulously evaluate your claim and tenaciously pursue the best possible outcome.
You will not pay a Port Charlotte car accident lawyer upfront. Instead, payment is rendered from a portion of your winnings – and only IF you win. Our team offers free initial consultations to give crash victims a better sense of whether they have a claim, how much it's worth, and how we can help.
Contact Our Port Charlotte Car Accident Lawyers
Call or email the Garvin Injury Lawtoday for a free consultation, and we will evaluate your claim and determine the appropriate course of action. We have offices in Fort Myers, Naples, and Key West and have been handling accident cases in Port Charlotte, Florida, for over the last 30 years.