Key West Truck Accidents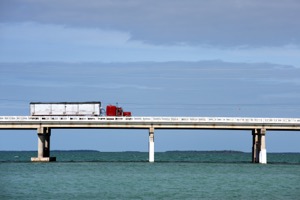 Large trucks are vital to our local and state economy, especially here in the Florida Keys, all the way down to Key West; these same commercial motor vehicles are also incredibly dangerous. Monroe County truck accidents occur at an all too regular occurrence.
Commercial trucks rumble across the streets and highways of Monroe County by the hundreds each day, especially on US Highway 1 (also known as Overseas Highway), the major north-south route that connects the lower and upper Keys with each other - and the entire East Coast to the Canadian border.
Trucks pose a real threat to other motorists, as well as pedestrians and bicyclists.
In a single recent year, the Florida Department of Transportation (FDOT) reported more than 37,350 commercial vehicle crashes statewide. That same year, authorities conducted 67,000 commercial driver inspections, identifying 18,000 violations.
The top four commercial truck operator violations were:
Log violations (breaking federal Hours of Service rules limiting drive-time)
Traffic control violations (speeding, red lights, stop signs)
Handheld device distractions
Driver record of duty status violations
Some of these could be at least partially explained by the high turnover rate of truck drivers in Florida. According to FDOT, only about one-third remain on-the-job for 2-5 years or more, and many quit within just the first three months. It is undoubtedly a tough job, even considering the decent wages most truckers earn but given the massive size and weight of these vehicles (up to 80,000 pounds), an inexperienced driver behind the wheel of a big rig is a terrifying thought.
Large trucks require 20-to-40-percent longer stopping distance than other vehicles – even more, if the road is wet or the brakes are poorly-maintained. Trucker fatigue is a major factor industry-wide in large truck crashes. The Federal Motor Carrier Safety Administration estimates roughly 13 percent of all truck accidents are the result of drowsy operators. Sun glare is also a big problem for truckers in the Florida Keys and is often cited as a factor in crashes.
Other catalysts for Florida truck crashes include:
Vehicle brake problems;
Drivers traveling too fast for conditions;
Driver unfamiliar with roads;
Inattention/distraction;
Over-the-counter drug use;
The cause of the crash will play a large role in who can be held responsible and to what extent. Florida is a no-fault state when it comes to auto insurance, meaning you can still take legal action against the truck driver/owner even if you were partially to blame.
Our Florida Keys truck accident attorneys are experienced in helping those injured or directly affected by large truck crashes identify all responsible parties, hold them accountable and recover compensation. Just as customers and stores here in Key West, Marathon, Big Pine, Key Largo and Islamorada depend on shipments from the mainland; drivers on U.S. 1 depend on the ability to safely use our roads and also that those driving the heaviest of vehicles are doing their part to ensure a safe commute for all.
Filing a Florida Keys Truck Accident Lawsuit in Key West
Not all claims for damages following a truck accident will require a lawsuit. In some cases, your injury attorney may be successful in negotiating a fair settlement long before it reaches that point.
Even if a truck accident lawsuit is filed, the chances it will go to trial are generally low. Most are resolved in pre-trial settlement negotiations. However, our dedicated civil trial lawyers are committed to seeing the case to a conclusion most favorable to our clients - including trial, if necessary. At times, trucking accident defendants will concede liability but dispute damages, so the trial will only be about proving how much should be paid in damages.
Commercial truck accident cases differ from car accident injury claims for a few reasons:
Those hurt are almost always the people within passenger cars and not the truck occupants - no matter who is at-fault. Trucks often weigh 20 to 30 times as much as passenger cars, leaving occupants vulnerable.
Injuries tend to be very severe or fatal. That means the value of these claims is often quite high.
Commercial carriers are expected to maintain liability insurance of somewhere between $300,000.00 and $5 million, depending on the size of the truck and what it is transporting. Given the severity of injuries these collisions cause, insurers know how much is at stake, and tend to fight these claims vigorously.
Commercial truck drivers are held to a higher standard when it comes to the degree of caution they must exercise. They are specially trained and licensed to operate these large rigs, every aspect of the job is heavily regulated by federal and state laws. Truck drivers, motor carriers and shippers understand that any violation or a moment of carelessness can be deadly.
Liability can be tricky to parse out. Motor carriers are usually the one with the insurance, but they do not always employ the driver or own the goods that are being transported. There are often multiple defendants working for several different companies. Florida no longer recognizes joint and several liability of defendants (per state lawmakers' 2006 amendment to F.S. 768.81), meaning that now, each defendant is only liable for their share of damages for wrongdoing and/or negligence.
If you are injured in a truck accident in the Florida Keys or are the survivor of someone killed in such a crash, our Monroe County truck accident attorneys can help you examine your legal options and determine the best way forward.
Contact our Florida Keys and Key West Truck Accident Lawyers
Call or email the Garvin Injury Law today for your free consultation. We have been successfully handling Key West Injury Cases for more than 40 years.