Hurricane Damage Claims for Florida Business Owners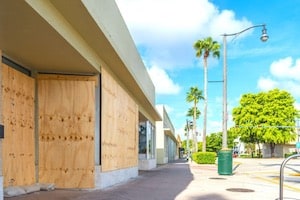 A big part of owning and managing a business is preparing for the inevitability of the unexpected. For the 2.8 million small businesses in Florida (comprising 98 percent of the companies in the Sunshine State), that means preparing both your people and your property for the possibility of hurricane damage. This is especially true if you're located along the coastal regions.
Florida business owners may have access to several types of commercial insurance coverage and disaster assistance to help buoy them financially in the wake of a natural disaster. As it stands, there's no such thing as a single, standalone commercial hurricane insurance policy for businesses. It's often a patchwork of coverage options. Navigating the claims process to keep your business afloat can be incredibly stressful. Our commercial insurance claims attorneys can help.
Some avenues of financial recovery for Florida businesses post-hurricane may include:
Business interruption insurance.
Contingent business interruption insurance.
Commercial flood insurance (or National Flood Insurance Program claims).
Building ordinance insurance.
Utility interruption insurance.
Inland marine insurance
Spoilage insurance.
In addition to these, businesses might find temporary relief with:
Economic injury and physical damage loans through the U.S. Small Business Administration
Florida Small Business Emergency Bridge Loan Program, administered by the Florida Department of Economic Opportunity
Disaster assistance from FEMA (Federal Emergency Management Agency)
Tax relief measures, such as postponing certain filing and payment deadlines
This isn't an exhaustive list, but it's a good starting point.
Despite these resources, businesses too often find themselves going under while trying to work through the red tape to get the help they need to stay afloat. Insurance companies as a whole unfortunately have a well-earned reputation for wrongfully denying claims, delaying the claims process, and low-balling faithful customers. Our South Florida business hurricane damage claims attorneys help companies through every step in the process - reviewing policies, investigating claims, gathering key evidence, filing claims, negotiating settlements, and (if necessary) pursuing litigation.
Why Are Hurricanes So Costly for Florida Business Owners?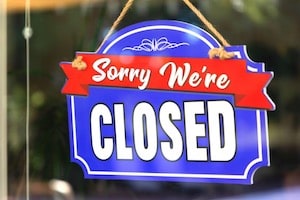 The NOAA's Office for Coastal Management notes that of all the weather disasters throughout recorded U.S. history, hurricanes (also known as tropical cyclones) have caused the most death and destruction - by a long shot. In 2021, there were 20 separate weather climate disasters in the U.S. that cost $1 billion or more - the third-most on record, behind 2017 and 2005.
The U.S. Congressional Budget Office estimates average annual economic losses from hurricane winds and storm-related flooding is somewhere around $54 billion, with commercial businesses accounting for about $9 billion of that. However in 2022, Hurricane Ian's impact blew that figure out of the water. By some estimates, the economic impact of Ian was around $75 billion (possibly more), pushing total losses for extreme weather disasters for that year to about $100 billion.
In the years to come, hurricanes and other natural disasters are expected to continue inflicting ever-costlier damages to Florida businesses.
As our South Florida hurricane damage commercial insurance claims attorneys can explain, the effects of a hurricane's damage to local businesses can drag on for as long as 2-3 years. Among some of the setbacks businesses face as a direct result of these storms:
Business closures - for days, weeks, or even months on end. Without business interruption insurance, consequent revenue losses may never be recovered.
Customer cancellations. In regions that rely heavily on tourism, natural disasters will have customers canceling quickly. Even once your doors reopen, it may take a while for the customers to return.
Extensive property damage. This can also force companies to close for weeks or months on-end.
Supply chain disruption. Hurricanes can cause major supply chain headaches, from suppliers being directly impacted to transport routes that are blocked or heavily congested. This can impact a business's ability to fully reopen.
Product spoilage. Companies that stock products requiring special storage conditions like constant refrigeration may have to pitch those products at a loss, as they're no longer safe for use or consumption. Agricultural companies may have crops or equipment destroyed.
Displaced or injured employees. Even if your business structure is intact and safe, full-scale reopening may not be possible if your workers can't show up. Hopefully they are physically unharmed, but even so - they may have lost their homes, vehicles, etc. It can take a while for staffers to get back on their feet so operations can run at full capacity once again.
Calculated preparation can sometimes ward off the worst of these impacts, but a lot of it depends on the type of operation you have and the size of the storm.
Insurers have been known to deny claims for these and other losses citing things like pre-existing damage, lack of adequate documentation, policy exclusions, etc. This can be incredibly frustrating when all you want to do is get back to work.
Attorneys Help With Florida Business Hurricane Damage Claims
If your South Florida business has been directly impacted by a tropical storm, hurricane, or tornado, our attorneys can help you navigate the insurance claims process.
Insurers are always going to be focused on their bottom line. For Florida business owners, it's not only their own financial security and livelihood on the line - it's that of their employees too. There's also the well-being of the customers that count on them. It's important for business owners to make sure they have covered all bases with hurricane insurance damage claims - and that they're taking advantage of any loans, grants, or other assistance for which the business, the employees, or the customers may be eligible.
Business insurance claims for which our legal team can provide assistance:
Business interruption claims. Florida business interruption insurance is usually an add-on rider to a company's property/casualty insurance of comprehensive or "all risk" package policies. Essentially, if you have to shut down your business operations due to circumstances outside your control (natural disaster, government evacuation orders, government shutdown orders, etc.), business interruption insurance can help your company with things like: Lost income/profits, operating expenses, temporary relocation, payroll, taxes, loans, and extra expenses.
Contingent business interruption claims. Contingent business interruption insurance and contingent extra expense coverage is an extension of business interruption insurance. This type of coverage reimburses companies that lose profits or incur extra expenses as a result of a key supplier business interruption. It's most valuable for companies that rely heavily on a single/small number of suppliers, manufacturers, recipient businesses, neighboring businesses, or specific customer base.
Building ordinance insurance. This type of coverage reimburses property owners after a covered loss for the cost of repairing or rebuilding that must be done in accordance with the most up-to-date building codes. Older structures may have been grandfathered in/not subjected to newer building codes, but if a hurricane requires you to repair or rebuild, you often must do so in accordance with the latest building code standards.
Utility interruption insurance. This is sometimes referred to as off-premises power coverage - because the damage stems from property damage/loss due to a utility failure that occurred off site. A prime example would be hurricane-force winds knocking out transformers or other equipment essential to the power grid on which your business relies. Power may not be restored for days or weeks on end after a hurricane, resulting in damage to your goods or merchandise. Utility interruption insurance can help offset the costs.
Spoilage insurance. For bars, restaurants, grocery retailers, pharmacies, warehouses, and other business establishments that stock and/or serve perishable goods, spoilage insurance coverage can provide reimbursement for lost or contaminated goods due to covered loss.
Inland marine insurance. This is insurance coverage for products that are transported over land (i.e., via truck or train) and those stored temporarily in third-party warehouses. (This is as opposed to marine insurance, which covers losses for goods transported over water.) If your business regularly ships or receives products or equipment, inland marine insurance can cover losses if your shipping, warehousing, or third-party logistics partners are impacted by a natural disaster, accident, or other covered loss.
In addition to assisting our clients with investigating, filing, and pursuing these hurricane damage claims, we can also help clients when insurers act in bad faith. Florida bad faith insurance lawsuits are appropriate for holding insurers to account when they treat customers unfairly by denying legitimate claims, causing unnecessary delays, requiring inordinate amounts of paperwork, etc.
Aside From Insurance, How Can Businesses Minimize a Hurricane Impact to Operations?
In addition to carrying an adequate amount of insurance, small and midsize businesses in Florida can sometimes lessen part of the impact of a hurricane or other natural disaster by implementing a continuity plan.
Continuity plans address things like protection of business records/IT infrastructure, working out means of communication with your people before, during, and after the storm, making workers aware ahead of time how payroll may be impacted, letting customers know what they can expect (to the extent you're able to predict those facts), etc.
If you need help with your commercial hurricane damage insurance claim, our Southwest Florida law firm provides free initial consultations.
Contact our South Florida commercial insurance hurricane claims lawyers by calling 800.977.7017 or via our online Contact Us form.