Fort Myers Nursing Home Neglect and Abuse Lawyers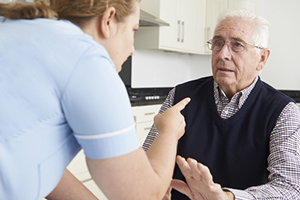 Nursing home neglect and abuse is a serious problem in Florida, which has nearly 700 licensed nursing homes in the state, according to the Agency for Health Care Administration. Neglect or abuse of an elderly or disabled adult is a crime, as outlined in F.S. 825.102. However, mistreatment of nursing home residents does not need to rise to a criminal level to take civil action against the nursing home or its staffers.
Most nursing home neglect and abuse claims in Florida arise from a failure to provide an acceptable level of care, which is categorized as either medical malpractice or general negligence. At Garvin Injury Law our Fort Myers nursing home neglect attorneys can help you ascertain whether you or your loved one have a valid claim for damages.
Depending on the type of case, one may be entitled to damages for the cost of medical bills, pain and suffering, and wrongful death.
What Nursing Home Neglect and Abuse Looks Like
Nursing home residents in Florida are guaranteed certain civil rights by law, as outlined in F.S. 400.22. These include the right to receive adequate and appropriate health care services and protective and support services, as well as treatment that is courteous, fair, and with the fullest measure of dignity.
There is also the federal Nursing Home Reform Act of 1987, codified in 42 CFR § 483, which in part requires nursing homes to provide services and activities to attain or maintain the highest practicable physical, mental and psychosocial well-being of each resident in accordance with their written plan of care.
Examples of nursing home neglect and abuse can include:
Patients with Alzheimer's disease or dementia wandering off-site/ into dangerous situations;
Falls, particularly when followed by inadequate assessment and/ or treatment after;
Physical, verbal, or sexual assault by staffers or other patients;
Pressure ulcers/ bed sores resulting from inadequate turning/ movement of immobile patients;
Malnutrition/ dehydration;
Poor personal hygiene care, including assistance with bathing, teeth-brushing, and toileting;
Medication errors;
Use of physical or chemical restraints (the latter through improper use of antipsychotic medications);
Infections due to improper use or maintenance of catheters;
Bed rail strangulation;
Having embarrassing or upsetting pictures taken and posted to social media (such as Snapchat) by staffers;
Failure to properly supervise smoking and/ or other potentially hazardous activities.
Validated reports of Medicare and Medicaid health care fraud are also red flags that patients may have been improperly treated because it means your loved one may have been receiving care or services they didn't need or denied services they should have received - sometimes with harmful results.
The Scope of Nursing Home Neglect and Abuse in Florida
The U.S. Census Bureau reports the U.S. population is aging, a trend that is likely to continue over the next two decades, with Florida having one of the highest median ages at 42.1. Baby boomers, one of America's largest generations, began reaching the age of 65 in 2011, increasing the demand for assisted living, home health care, and skilled nursing services.
While there are many new facilities cropping up to meet this demand, the problem is a significant number (approximately 70 percent or more) are for-profit entities. As noted by a study published in the journal BMJ (reflected in countless others), for-profit nursing homes tend to provide a lower quality of care than not-for-profit facilities, in terms of staffing levels and prevalence of bedsores, falls, and substantiated reports of nursing home abuse and neglect.
The mean number of nursing home deficiencies cited per facility by state officials in Florida is 6.2, according to the Center for Medicare & Medicaid Services.
Still, nursing home abuse is a problem that is largely underreported. One large-scale analysis by the Inspector General for Health and Human Services found that more than 1 in 4 cases of possible physical and sexual abuse against nursing home residents went unreported to police, despite the fact that federal law requires immediate notification.
In many of these cases, what we must show is not only was the perpetrator (staff or fellow resident) responsible for the abuse or neglect but also that the nursing home knew or should have known that the abuse or neglect would occur and/ or failed to have systems in place that would prevent or immediately catch it or that they failed to act properly once it became known.
Call or email the Garvin Injury Law today for a free consultation and we will evaluate your claim and determine the appropriate course of action. We have offices in Fort Myers, Naples, and Key West. We have been handling nursing home neglect and abuse cases in Fort Myers, Florida for over 30 years.