Fort Myers Nursing Home Falls Lawyer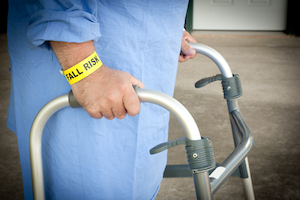 Florida nursing home falls can lead to serious injury, hospitalization, and death. Our Fort Myers nursing home injury lawyers recognize that more often than not, falls in skilled nursing facilities are the result of negligence, with factors including:
Poorly-trained staff.
Understaffed facilities.
Failure to properly assess a resident's risk of falling.
Failure to closely monitor at-risk residents.
Misuse/malfunction of equipment (bed rails, walkers, canes, wheelchairs, etc.).
Improper transfer methods by staff.
Medication errors.
Wet or otherwise hazardous flooring.
The U.S. Centers for Disease Control and Prevention reports fall death rates among older adults (over 65) have risen by 30 percent in the last decade. With that has been an alarming uptick in nursing home falls. This is somewhat unsurprising, given that the rate of nursing home falls are more than double that of seniors who do not live in a skilled nursing facility.
Research published in the Journal of the American Medical Directors Association revealed a 100-bed facility could expect as many as 200 falls annually – and that is without taking into account all the falls that are never reported. Moreover, one-third of nursing home falls involve people who cannot walk. If a nursing home resident falls once, they are twice as likely to fall again.
Falls can be especially serious if someone is taking certain medications like blood thinners. About 10-25 percent of nursing home falls result in injuries like bone fractures or head trauma requiring hospital admission. Treatment and prognosis, even for non-fatal falls, can be complicated. Hip fractures, for instance, require surgery and sedation (both of which can be life-threatening to someone who is elderly and frail). Plus, extended hospitalization increases the risk of dangerous, hospital-acquired infections.
The lowering of one's overall quality of life after a serious fall can be emotionally devastating too. Reduced mobility and no longer being able to engage in activities once enjoyed can lead to depression and anxiety that can further accelerate one's physical decline.
Accountability for Florida Nursing Home Falls
Our Fort Myers nursing home fall lawyers recognize that due to the frequency and severity of these incidents, skilled nursing facilities owe a duty of care to adopt and follow strict fall prevention policies and procedures. Unfortunately, too many do not. Facilities are commonly understaffed, poorly-trained, and improperly supervised. That can leave elderly and vulnerable residents facing all kinds of fall-related hazards.
This violates not only residents' rights under F.S. § 400.022., but also federal regulations. Any nursing home that accepts Medicare (which is pretty much all of them) must follow certain laws, including 42 CFR § 483.25(h), which provides in part that the facility must ensure the environment remains as free from hazards as possible and that residents receive adequate supervision and assistive devices to prevent incidents.
Nursing homes can be held liable for mistakes in providing medical care, incidents on their premises, nursing home abuse, neglect, and negligence.
Some Florida nursing home fall lawsuits have resulted in substantial verdicts, primarily because of punitive damages. For example, a Polk County jury issued a $1.1 billion verdict in the 2003 case of Townsend v. Trans Healthcare, Inc. That case was spurred by the death of a 69-year-old nursing home resident who had fallen numerous times leading up to her final hospitalization. The repeated falls resulted in broken bones and infections, some of which were not properly treated or reported. The plaintiffs alleged this contributed to her death. Jurors agreed, awarding $110 million in compensatory damages and $1 billion in punitive damages. Per F.S. § 768.72, punitive damages are intended to punish/deter a defendant for intentional misconduct or gross negligence. The plaintiff did not actually collect that much, but the verdict sent a strong message about how seriously Florida juries take the responsibility to prevent nursing home falls.
Whether a facility or healthcare provider can be held liable for a Florida nursing home fall will depend on whether the facility:
Failed to enact an appropriate plan of care based on the health condition of the resident.
Used improper care or transfer techniques.
Did not follow facility protocol involving care-specific alarms or residents' access to call buttons.
Failed to fix certain environmental hazards (poor lighting, wet floors, etc.) in a patient's room or common areas.
Nursing homes and healthcare workers can also be held responsible if a patient's condition gets worse due to a lack of follow-up care.
Nursing home standards of care are spelled out in federal and state statutes, regulations, and interpretive guidelines. The federal regulations and guidelines are sometimes altogether referred to as "the OBRA standards," short for the Omnibus Budget Reconciliation Act of 1987, from which much of our current nursing home regulation is gleaned. Florida standards closely follow these, with some variation. These standards specifically recognize that, on the whole, nursing home residents are elderly, frail, often have numerous medical diagnoses. Therefore, caregivers need to be hypervigilant in their care and supervision.
Taking Action
Falls are not a normal part of aging, and skilled nursing facilities can take action to prevent them. Family and loved ones of nursing home residents must educate themselves on the possible signs of a nursing home fall so that they can also act. This is especially true if your loved one is unable to communicate well.
Some indications of a nursing home fall include any unexplained:
Bruises or abrasions
Broken bones
Sprains
Head injuries
Fractured hip
If you have questions about whether you have grounds for a claim, our Fort Myers nursing home injury lawyers can answer your questions in a free consultation. We accept these cases on a contingency fee basis, meaning we are not paid attorney's fees unless and until you win.
Contact our Fort Myers personal injury attorneys at Garvin Injury Law today at 239.277.0005 or online for a free case review.