Florida Stairway Accident Lawyer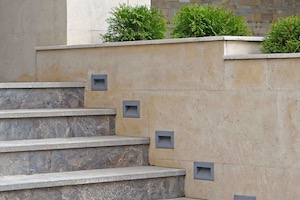 Stairways are such a common part of everyday life that their potential for serious danger is rarely considered - until someone is hurt. The American Journal of Emergency Medicine reports more than 1 million people are injured in stairway accidents each year. Those most vulnerable to serious injury (head & neck injuries, bone fractures, etc.) are adults over 85 and children under 3. That said, two-thirds of those treated for stairway injuries are people ages 11 to 60, most frequently treated for sprains, strains, scrapes, bruises and broken bones. Foot and ankle injuries are typical.
Research teams analyzed more than two decades of stairway accidents, finding about 3,000 injuries reported daily, or 1 every 30 seconds. The direct and indirect costs of non-fatal stairway accident injuries in the U.S. exceeds $90 billion a year.
As for where these injuries are occurring, the U.S. Census Bureau reports that about half of U.S. homes (including condominiums and apartment buildings) contain stairs. About 60 percent of reported injuries occurred at residences. Our Florida stairway accident lawyers at Garvin Injury Law are aware of many serious falls occurring also at business, rental, and government properties. Some examples include:
Shopping centers
Amusement parks
Hotels and resorts
Pools
Skating rinks
Gyms
Vacation rentals (VRBO, AirBnB, etc.)
Airports
Restaurants
Movie theaters
Sports arenas and theaters
Night clubs and bars
Colleges, universities, and dorms
Office buildings
Hospitals and medical centers
Day care facilities
Government buildings (courthouses, schools, city halls, libraries, police departments, tax collectors' offices, etc.)
Construction sites
In situations where the fall resulted from a dangerous condition about which the property owner knew or should have known, there may be grounds for a Florida personal injury claim.
Why Do Stair Injuries Occur?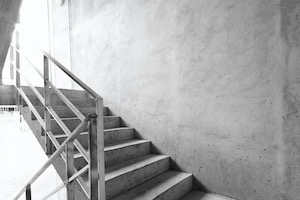 Slips, trips, and falls on flat, even surfaces have been known to cause severe injuries. Falling down the stairs can be catastrophic, not only because it occurs from a height, but also because the person falling strikes numerous surfaces at odd angles on the way down.
As to why it happens, many victims report it "happened without cause." Take that with a grain of salt, though, because embarrassment can often cause victims to brush it off. Very often, some condition on the stairs caused or contributed to the fall. Florida stairway accidents can often be attributed at least in part to factors such as:
Poor lighting.
Objects or debris left on the stairway.
Missing or damaged steps.
Slippery steps.
Uneven steps.
Unmarked elevation changes.
Missing or damaged handrails.
Am. J. Emerg. Med. researchers proposed stairway remodels and new construction that increases the width of horizontal stepping surfaces and ensures each stair is uniform to prevent missteps. Stairways should also be kept clean (but not slippery), well-lit and clear of debris.
Legal Responsibility for Florida Stairway Accidents
Property owners in Florida have a legal responsibility to maintain the site in reasonably safe condition for lawful guests/occupants. That includes a safe means of ingress and egress, which encompasses stairways too. Failure to do so can lead to a civil lawsuit under a legal theory known as premises liability.
The legal basis of most Florida stair injury cases is negligence, also known as the absence of reasonable care when one had a duty to use it. With most premises liability fall cases, that means one needs to prove the property owner/controller had actual or constructive knowledge of the hazard and failed to address or warn about it. Actual knowledge would be if the property owner created the danger or knew about that specific issue in that exact place at that exact time. Constructive knowledge is when a property owner should have known because it either occurred with regularity or existed for such a period of time that they'd have discovered it were they exercising reasonable care in maintaining the property. Previous reports of falls in that same location are strong evidence of actual knowledge where stairway hazards are concerned.
What may also be used to establish liability is proof of negligence per se, or as a matter of law. This means we have evidence of failure to abide by certain safety regulations, such as Florida Building Codes or the Americans with Disabilities Act (ADA). Some examples:
Florida Building Code Section 1011.11 on Handrails states that stairways shall have handrails on each side. (There are exceptions, but those don't apply to most commercial structures.)
Florida Building Code Section 1003.5 on Elevation Change requires that where the difference in elevation is 6 inches or less, ramps must be equipped with either handrails or floor finish materials that contrast with adjacent floor finish materials.
ADA Section 303.4states that all changes in elevation greater than one-half inch shall be ramped, with Section 4.7.7 stating that any ramp must have detectable warnings, and all transitions from ramps to walkways, gutters, or streets must be flush or level and free from abrupt changes.
Florida Building Code Section 1008.3.1 on Illuminationstates that where there is a power supply failure in rooms/spaces that require two or more means of egress, there must be an emergency electrical system that can automatically illuminate exit access stairways and ramps.
Florida Building Code 1011.5.2 on Egress states that stair riser heights are to be no shorter than 4 inches and no higher than 7 inches (with a few exceptions), with rectangular tread depths being a minimum of 11 inches wide.
Florida Building Code 1011.5.4 on Dimensional Uniformity states that stair risers and tread must be of a uniform size and shape, with the greatest allowance between the largest/smallest riser height or tread depth being ⅜ of an inch maximum in the entire flight.
These are specifics that may or may not apply to your case, but they're good examples of how specific the law can get in terms of what is expected of those who construct and maintain stairways for public access. Evidence that the property was not in compliance with local building codes or industry standards for stairways doesn't automatically mean you win your case, but it does toss the burden of proof ball into their court.
Bear in mind that the individual circumstances are going to matter a great deal in terms of whether the property owner's actions were "reasonable." As noted in the 2008 Florida Supreme Court ruling in Kirton v. Fields, business owners owe their patrons a duty of reasonable care and a duty to maintain a safe environment for the specific activity they provide. So for example, a facility that treats patients who have suffered foot and ankle injuries may be held to the highest possible standard in terms of what stairway and general walking conditions may be deemed "reasonable."
Aside from the property owner, other possible defendants include commercial tenants, construction companies, or maintenance companies. If your injury occurred while you were on-the-job, you may be limited to workers' compensation. However, if the work injury occurred on property owned/maintained by someone other than your employer and/or due to the negligence of someone other than your employer/co-worker, you may be entitled to further damages through a premises liability claim.
It should be noted that even if the person injured was partly responsible for what happened, it doesn't negate the negligence of the property owner. Per F.S. 768.81, Florida follows a system of pure comparative fault. What that means is an injured party's share of the fault will proportionately reduce the damage award to which they are entitled, but any other party's at-fault still have to cover their fair share. For instance, if the court finds you are 20 percent at fault for the stairway accident, the property owner is 80 percent at-fault and your damages are $100,000, you would be entitled to collect $80,000 from the property owner/defendant.
Applicable damages in a Florida stairway accident case will depend on the severity of injuries, but victims may be entitled to compensation for things like:
Medical bills.
Lost wages/time unable to return to work.
Physical and occupational therapy.
Transportation costs to-and-from treatment.
Assistance with everyday tasks.
Pain and suffering.
Loss of life enjoyment.
If you're injured in a South Florida stairway accident, we can assess the facts of your case to help you determine its viability and value, before advising you on the legal process of recovering fair damages.
Contact Garvin Injury Law, stairway accident lawyers serving Fort Myers, Port Charlotte, Sarasota, Naples, and Key West, by calling 239.277.0005, or write to us online for a free case review.