Florida RV Accident Lawyer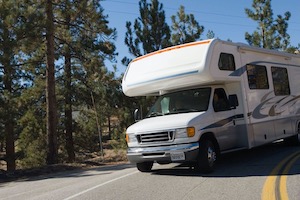 Florida RV accidents have been on the rise in recent years. Part of it is a statewide population boom that means more vehicles overall sharing the road. But Florida has always been a popular winter destination for RV travelers, particularly retiree "snowbirds." During the pandemic, RV travel was highlighted as a way for folks to maintain social distancing while enjoying the outdoors. More opportunities for remote work and schooling meant the lifestyle has drawn more families, college students and young professionals. In a single recent year, Florida RV park usage and RV sales shot up 20 percent.
Florida is a very RV-friendly state. Anyone with a standard driver's license can legally drive an RV here, so long as it's for personal use. However, that doesn't mean everyone is adequately prepared to safely handle these vehicles. They're larger, longer, and higher up than most passenger vehicles. They're harder to turn, require extended braking distance, are prone to large blind spots, and lack ease of maneuverability - all things that can increase the odds of a crash, particularly if the driver isn't experienced. Uneven weight distribution and high centers of gravity can also be problematic. RVs can be prone to tipping and rolling over on tight turns.
Injuries and other damages in RV accident cases are often significant for all parties involved. Smaller vehicle occupants, bicyclists, and pedestrians struck by an RV are at high risk because of the size disparity. For RV owners, property damages alone can be astronomical.
The Florida Department of Highway Safety and Motor Vehicles reports there are dozens of RV accidents in the state each year, many of those being incapacitating or even fatal.
Florida RV accident cases are complicated not only by substantial financial damages, but often by questions of liability and insurance coverage. It's imperative if you're involved in a Florida RV accident that you consult with an experienced injury law firm for guidance on what's next. At Garvin Injury Law, we help RV accident claimants in Fort Myers, Naples, Key West and throughout South Florida.
What Exactly Is an RV, and What Are the Rules for Driving Them in Florida?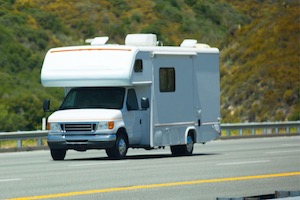 RVs, short for recreational vehicles, are considered relatively safe and convenient ways to travel. They're fixed with all the modern comforts of a home, just smaller - and on wheels. Florida Statute 316.515(9) defines "motor coach" as a vehicle built on a self-propelled, bus-type chassis with no fewer than three load-bearing axels, primarily designed to provide temporary living quarters for recreation, camping, or travel use. "Motor vans" are frame-mounted recreational vehicles added behind the driver/cab area or mounted onto a bus/truck chassis, suitable for living in and driving across the country.
Different types of "RVs" include:
Travel trailers. Sometimes called "bumper-pulls," travel trailers are typically anywhere from 13 to 40 feet long, hitched to the frame of a tow vehicle using specialized hardware.
Fifth Wheels. Fifth wheels, camper trailers locked onto the fifth wheel coupling of a truck, are increasingly popular with families and full-time retirees because they're larger. They also tend to be somewhat more stable/safer/easier to control because the hitch centers some of the weight of the RV directly over the rear axle of the tow vehicle.
Lightweight trailers and expandable trailers. These are smaller, lightweight RVs that can be towed by smaller vehicles. They're lightweight, with pop-ups, slideouts and expanders.
Class A motorhomes. These are big, bus-like RVs, up to 45 feet long, powered with a high towing capacity to haul things like ATVs, motorcycles, or other smaller vehicles in the rear.
Class C motorhomes. These can be full-sized, compact or super-sized (though typically max out at 32 feet in length) with limited towing capacity.
Class B motorhomes. Also known as camper vans, they're motorhomes built with vans or panel trucks, smaller in size than a typical RV. These are very popular with younger travelers, who you'll frequently find on Instagram using #vanlife.
Converted buses. Also known as "schoolies," these are typically city or school buses that have been sold and converted into a recreational vehicle. Although such vehicles typically require a commercial driver's license (CDL) to operate, this requirement can be waived when it's registered as an RV.
Toy haulers. Toy haulers can be travel trailers, fifth wheels or even motorhomes, but with the added feature of a rear "garage" to haul things like motorcycles, ATVs, kayaks, bicycles, etc.
Although one does not need a special license to operate an RV in Florida, the state does have some specific rules about their size, condition, and operation. Some of these include:
Towing trailers can't be longer than 40 feet or longer than 8 feet 6 inches. They cannot be taller than 13.5 feet. The overall combined length of the trailer and towing vehicle (or RV and tow-behind) can't exceed 65 feet. A motor home is limited to 45 feet in length, not counting bumpers and safety devices. Private motor coaches can't exceed 50 feet.
Vehicles towing a trailer cannot exceed 65 mph in Florida, which is slower than posted speeds on many highways. All vehicle operators are expected to maintain safe speeds for the road conditions, so if there is heavy fog, brush fire smoke, hard rains, high winds, or heavy traffic, use of reasonable care may require slowing down.
Trailers that weigh over 3,000 pounds are required to have their own braking systems, separate from the towing vehicle.
Tandem towing (a vehicle pulling a trailer and a boat or two trailers, etc.) is prohibited in Florida.
All trailers must have license plate lights, tail lights, turn signals, brake lights, reflectors and safety chains.
Trailers must be registered to your state of residence and proof of insurance is required.
Some Causes of Florida RV Accidents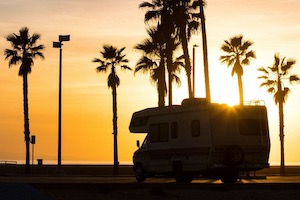 Driving an RV can be difficult, and every driver who assumes that responsibility shouldn't take it on lightly. Safety courses on defensive driving of RVs are strongly advised, though not required. RV owners are also strongly encouraged to purchase liability and UM/UIM insurance coverage over and above what is required by state law. This helps ensure that in the event of a bad crash, any injuries or property damage will be adequately covered.
Some common Florida RV accident causes with which our injury lawyers are familiar:
Rear overhang swing. This is when the back axle of the RV swings out in the opposite direction that the RV is turning. The rear overhang and off-tracking can be incredibly dangerous, particularly for any pedestrians or bicyclists on the inside path of that turn.
Rear end crashes. This happens a lot with RVs because operators fail to accurately judge the amount of stopping distance needed for the RV to stop safely. It also happens in cases when other drivers abruptly cut off an RV - often because they misjudged how much time is needed for an RV driver to safely brake. Distraction, drowsy driving, and poor visibility can also be factors in rear-end RV crashes.
Off-tracking. This is when the rear tires don't follow the front tires when the vehicle is rounding a curb, risking collision with any vehicle or object to the right. Truth be told, this happens with every kind of vehicle, but off-tracking can be much more serious when it involves an RV because of its size and also the lack of driver experience in controlling it.
Vehicle function failure. These are things like tire blowouts (very common), brake failure, and other mechanical failures that can cause the operator of an RV to lose control.
Runaway trailers or unsecured loads. If a trailer is not properly secured to the back of a towing vehicle (or if a towed vehicle isn't properly secured to the back of a motorcoach or motorhome), that can pose serious danger to anyone else sharing the road. It is the responsibility of the driver to ensure every single attachment to that rig - bicycles, ladders, totes, motorcycles, trailers, etc. - is property secured before embarking.
Failure to maintain lane. The inability to maintain steering control of an RV can happen for a number of reasons, including poor road conditions, mechanical failure, or simple distraction/drowsy driving.
Other potential issues include fires caused by gas leaks, poorly-balanced loads, rollovers, poorly-calculated turns, and failure to check blind spots.
Potential damages in these cases include recovery for property damage, medical bills, lost wages, pain and suffering, loss of life enjoyment, loss of consortium, and wrongful death.
If you were injured in a Florida RV accident, our dedicated injury lawyers serving Fort Myers, Naples, and Key West can help you assess the damages and determine your next step.
Contact Garvin Injury Law, Florida RV accident lawyers serving Fort Myers, Naples, Port Charlotte, Sarasota and Key West, by calling 239.277.0005, or write to us online for a free case review.