Florida Hurricane Roof Damage Lawyer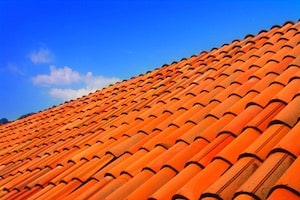 Roof damage is far from a rarity in Florida storms. Roofs on coastal homes and businesses are among the most exposed structural elements, and thus highly vulnerable to the relentless ravages of the annual Atlantic storm season. Fighting for fair insurance coverage when your roof is damaged can sometimes feel as if you're weathering a whole new storm - but you don't have to do so alone.
Florida hurricane roof damage - both residential and commercial - should be covered by insurance policies. However, as our South Florida hurricane roof damage lawyers can explain, the state's insurance market has been especially turbulent of late, making negotiations for fair payouts a task of increasing challenge.
Of course, insurers always have an eye on cost mitigation. Yet in recent years, there have been back-to-back high-impact storms, a glut of roofing scams, and numerous state legislative changes.
In fairness, insurers do face a number of difficulties in the wake of these disasters. However, they also have plenty of resources to cover all the well-trained agents, lobbyists, and lawyers working on their behalf. Homeowners and businesses directly impacted by major storms benefit from having legal advocates on their side as well.
Insurance companies have a responsibility under the law to use good faith when it comes to investigating, negotiating, and settling Florida roof damage claims. Failure to do so can be cause for a bad faith insurance lawsuit, which can result in the insurer paying triple damages. But that's really a last resort. Ideally, insurers and policyholders can hammer out a fair settlement sooner rather than later. Having an experienced Florida hurricane roof damage lawyer looking out for your interests throughout the process can make a big difference in your odds for success.
Hurricane-Related Roof Damage
Everyday exposure to the elements can have an adverse impact on a roof over time. But when a hurricane, tornado, or other major storm hits, the damage is often swift and extensive.
Examples of hurricane-caused roof damage include:
Missing or damaged roof materials. High winds and torrential rain can easily tear away shingles, clay tiles, and other roofing materials.
Damaged ridge vents or weather vents. Many newer homes in Florida have ridge venting or weather venting, which allow the release of moisture and hot air through attics/upper floors. Located at the roof peak, they're vulnerable to damage from high winds and rain.
Missing or shifted step flashing. This is a piece of metal bent to 90 degrees situated between shingles and a sidewall, dormer, or chimney to block water from worming its way under the shingles and destroying the underlying structure. These can be damaged by high-velocity winds.
Damage to Eaves. Forceful hurricane winds whipping under the eaves can lift a roof entirely off a structure. Even if the roof is still attached, damage to eaves is a serious issue that often requires total roof replacement. Failure to address immediately can leave a structure vulnerable to mold, insect infestations, etc.
Pipe jacks and boots damaged. Vent pipes protect roofs from moisture, and they're tightly sealed with rubber boots. These can be damaged with high winds and hail commonly associated with hurricanes. Cracks might not be easily visible, so careful inspection is important.
Skylights, attic fans, and vents that are compromised. These fixtures are tightly sealed to keep the elements out, but they can be damaged in hurricane-force winds.
Strong winds are often the most common culprit of roof damage in a hurricane. Still, there can be secondary issues as well. These include incidents like falling branches and trees, lightning strikes, and heat damage. Sometimes, depending on the circumstances, insurers will deny roof damage claims when these secondary issues are identified. It's important to have an insurance claims lawyer review your policy to determine whether you have grounds to challenge such denials.
Florida Law on Hurricane-Damaged Roof Insurance Repairs
Florida has some of the most extensive roofing regulations in the country - mostly because there are so many storm-related claims filed each year.
While residential and commercial property roofs are among the most likely structural elements to suffer Florida hurricane damage, roof damage insurance is widely misunderstood. Fort Myers roof damage insurance claims attorneys recognize that recent changes to Florida roofing insurance laws have further complicated matters for many insureds.
One of those changes - Senate Bill 2D, effective as of 2022 - involved limiting insurers' ability to refuse coverage for roof damage based on the age of the roof. The provision prohibits companies from denying coverage for roof damage for roofs less than 15-years-old. For older roofs, insurers must allow homeowners to conduct an inspection on the condition before deciding to refuse coverage. If the results of that inspection reveal there are 5+ years of use life left in the roof, insurers can't deny coverage based on age.
The new law also states that if a roof complies with 2007 Florida building codes, insurers can opt to repair rather than replace the roof - even if it's more than 25 percent damaged. Full replacement coverage is available for roofs under 10-years-old.
Property insurers can offer separate roof deductibles at a top rate of 2% of the residence coverage limit OR half the cost of replacing the roof - whichever is lower. Homeowners who opt for separate roof deductibles may be given a discount on their policies.
To cut down on insurance fraud, roofing contractors aren't allowed to solicit door-to-door, and contractors/public adjusters can't offer property owners incentives - nor can they accept incentives for referrals.
To help homeowners in coastal communities, the law also allocated funds to be provided as state grants of up to $10,000 for home-hardening projects - which include roof reinforcements. Completion of such projects opens the door to discounts on insurance premiums.
What Should I Do If My Roof is Damaged in a Hurricane?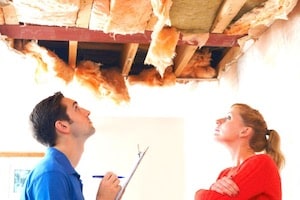 Florida property owners who suspect possible roof damage during a storm should prioritize scheduling a roof inspection as soon as possible. Sometimes post-storm roof damage is obvious, other times not. Issues to look for:
Large holes in the roof.
Broken or missing shingles.
The rubber or plastic membrane of the roof being lifted.
Roof buffeting.
Any evidence of leaks.
Sheathing that is missing or broken.
Nails uplifted or separated.
Damage to any equipment on the roof (satellite dishes, air conditioners, antennae, etc.).
While you're waiting for an inspection, take pictures and video yourself (if you can do so safely). If necessary, mitigate the damage if possible (draping large tarps over exposed areas, use buckets or other containers to catch leaks, use fans to dry the area as much as possible and prevent mold, vacuum or mop standing water, etc.). Notify your insurer immediately about a possible claim. Reach out to an attorney if you feel overwhelmed by the process or feel that the insurer isn't treating you fairly.
As far as how much time you have to file, F.S. 627.70132 previously granted claimants three years in which to file property insurance claims for hurricane damage - which includes roof repairs. However, recent legislative changes now require that roof-related claims - including supplemental and reopened claims - must be submitted within two years. Furthermore, if a homeowner wants to file a lawsuit against an insurer, they are required to submit written notice 60 days in advance.
Even two years can seem like a long while, but some policies can require notification of a potential claim in a much shorter time window. Plus, claims can be held up for many reasons. It is typically in your best interest with roof damage claims to act quickly.
Note that sometimes, there is little question that the roof has been damaged and little doubt regarding the cause. Yet insurers may justify a low-ball settlement offer based on factors like the type of roof, how old the roof is, pre-existing damage, improper prior maintenance, and related structural damage.
Other grounds on which claims may be denied include:
Damage is excluded under your policy.
The policy was canceled because premiums weren't paid in a timely manner.
Claim is inflated or fraudulent.
Knowing the law - and your rights - is essential when filing insurance claims and successfully negotiating settlements. Ensuring you receive a fair payout is the top priority for our South Florida hurricane and storm damage claims attorneys.
Contact our South Florida roof damage claims attorneys by calling 800.977.7017 or via our online Contact Us form.