Florida Hurricane and Storm Damage Claims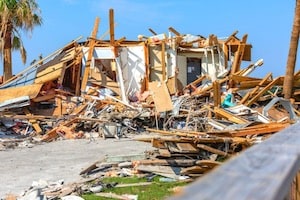 Florida weather is notorious for turning on a dime. Blue skies and sunshine one minute are swept away the next by ominous black storm clouds. But one thing Floridians can count on pretty much every year is a steady parade of tropical storms, hurricanes, and tornadoes barrelling toward our coasts from June-November. No matter how prepared, Florida hurricane and storm damage claims can throw property owners for a loop - especially when it turns into a tug-of-war with insurers hoping to limit payouts.
The stakes are high for everyone involved. People's homes and businesses are on the line, while insurers face collective losses of tens of billions of dollars per storm.
Successfully navigating Florida hurricane damage claims requires careful review of the policy language, an acute understanding of the law, careful gathering and presentation of all relevant facts, negotiation savvy - and no small amount of persistence. That's asking a lot of people on a good day - let alone after they've just survived a natural disaster.
As lifelong Floridians, the team at Garvin Injury Law has weathered our fair share of serious coastal storms. We're also closely familiar with the go-to tactics insurers use to minimize, delay, or outright deny legitimate hurricane and storm damage claims. We're committed to helping property owners fight for the full and fair compensation they're owed - and holding accountable insurers who act in bad faith.
Florida Hurricane Damage Claims - Know the Details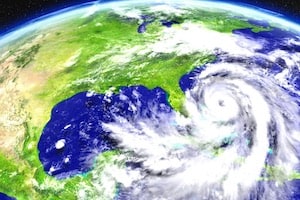 Nine of the 10 costliest natural disasters in U.S. history have been hurricanes. Florida isn't the only state that gets lashed by these storms each season, but we're at the top of the list for total number of annual storms as well as economic losses. Since the 1850s, Florida has been hit with more than 120 hurricanes - one-third of those being classified as "major."
Florida law - specifically F.S. 627.0629 - requires property insurance policies to include "hurricane coverage" for any wind damage caused by an officially-declared hurricane. Usually, this is not a separate policy, but rather comes standard in most homeowners' insurance policies. Storms are categorized by wind speed, rising from "tropical storm" designation to "hurricane" once winds reach 74 miles-per-hour. Hurricane coverage typically covers damage to both the building's interior as well as property inside, so long as it's established the cause was rain, sand, dust, or sleet blown in by direct wind force. The term "wind storm" encompasses not just wind gusts, but rain, hail, tornadoes, and cyclones caused by hurricanes.
As for what exactly is covered with a Florida hurricane damage policy, it depends on the specifics of your contract. However, most generally compensate for hurricane-related damage to:
The structure itself.
Roof damage (though the extent to which it's covered depends on several factors).
Other structures, such as garages, sheds, greenhouses, lanais, etc.
Interior property damage and items inside the structure.
Additional living expenses if you're unable to live in your home while repairs are taking place.
Property owners can obtain discounts on hurricane insurance premiums if they install certain features that fortify their structures to better withstand higher wind speeds. Examples include hurricane shutters, impact-rated glass, roof-to-wall connections, roof deck fastening, building code equivalent roof coverage, and hip roof shape.
Other types of insurance coverage that can be critical to recouping hurricane-related losses:
Mobile home insurance. Manufactured homes typically require a separate type of policy and insurance in Florida.
Renters' insurance. While a landlord's insurance will cover hurricane damage to the structure where you live, renters' insurance usually covers hurricane-related damage to an insured's personal property.
Condo insurance. More on this below, but homeowners' associations typically have master hurricane insurance policies to cover community damage (typically paid with homeowner dues), but individual homeowners and renters are still responsible for their own insurance as well.
Flood insurance. More on this below, but flood insurance usually isn't included in standard homeowners' insurance policies.
Comprehensive auto insurance coverage. If your car is damaged or destroyed due to flooding, comprehensive coverage can help you repair or replace the vehicle - minus your deductible.
If you need to file a claim for hurricane-related property damage in Florida, you're almost certainly going to have to pay a deductible. There are two types: Hurricane deductibles and windstorm deductibles. The Florida Office for Insurance Regulation (FLOIR) requires insurers to set deductible amounts based on the total insured value of the home - usually $500, 2 percent, 5 percent, or 10 percent. Some property owners agree to pay higher premiums to ensure lower deductibles. Unfortunately, that's not always an option for property owners in high-risk coastal regions. Post-storm deductible sticker shock is real, though sometimes insurers will waive deductibles when the property is a total loss.
Florida hurricane deductibles apply to any damage that occurs from the time a hurricane watch or warning is issued until 72 hours after it ends. Deductibles can only be applied once during any given Atlantic storm season.
Further, if the Florida governor declares a state of emergency due to a hurricane, the state insurance commissioner has the authority to order insurers to hold off on canceling or declining to renew existing policies for at least 90 days after a storm-impacted property has been repaired or substantially repaired. If a policy cancellation or nonrenewal is slated to take place during a hurricane, the effective date will be automatically postponed until the end of the hurricane.
But even if you have "hurricane coverage" in Florida, that policy unfortunately isn't likely to cover all hurricane-related losses. Perhaps the biggest gap for many property owners is the lack of flood insurance.
What Florida Flood Insurance Covers
Flooding is a major concern for coastal communities because of the potential for storm surge. Hurricane Ian in 2022 clocked storm surge heights of one-to-two stories that stretched several miles inland.
Flood insurance is typically purchased as a separate policy. A "flood" is defined as an excess of water on land that's normally dry that affects two or more acres of land or two or more properties. According to the National Flood Insurance Program, flood insurance policies typically cover:
Electrical and plumbing systems
Furnaces and heaters
Refrigerators, cooking stoves, and built-in appliances (dishwashers, etc.)
Permanently-installed carpet
Permanently-installed cabinets, paneling, and bookcases
Window blinds
Foundation walls, anchorage systems, and staircases
Detached garages
Fuel tanks, water well tanks, pumps, and solar energy equipment
The cause of the flood will have an impact on what's covered and what isn't. For example, if a sewer backup is a direct result of hurricane-related flooding on your property, then damage caused by the sewer backup would be covered. However, if the sewer backup wasn't directly caused by the flooding, the resulting damage won't be covered.
Florida Homeowners' Association Hurricane Coverage
Florida has the second-highest number of deed-restricted communities in the U.S. (just behind California). Approximately 45 percent of Floridians live in these "HOA" communities, so called because they are governed and maintained by homeowners' associations.
When it comes to hurricane insurance, condo and homeowners' association fees typically cover the community's master insurance policy. The Florida Condominium Act, F.S. 718.111(11), enacted after Hurricane Wilma in 2005, requires associations to provide adequate property insurance for the replacement cost of insured property as determined by an independent insurance appraisal determined once every 36 months, with deductibles based on available funds. Associations must provide primary coverage for all condominium property as originally installed or replacement of a like kind and quality in accordance with the original neighborhood specifications.
In general, "condominium property" that is covered with the HOA's hurricane insurance includes all property not included in the confines of a unit. Individual homeowners (and renters) need their own separate policy to cover hurricane damage to their unit's interior walls, floors, ceilings, and personal items.
If an HOA does not have the right type of insurance in place, the community may not be able to rebuild if it's ravaged by a storm. If that is the case, homeowners may be able to take legal action against the board. If you have concerns about your HOA's hurricane insurance coverage, it's worth discussing those with an attorney.
Florida Hurricane Insurance Claims Attorney Can Help
Insurance companies are expected as a matter of law to act in good faith with respect to policyholders and third-party claimants. Yet too often, adjusters put profits before the best interests of their paying policyholders. When you're reeling after a major storm, you aren't likely in the best headspace to handle the kind of complex negotiations required to ensure you're fairly compensated.
Be especially wary of insurance agents who insist you can resolve claims without an attorney, try to pressure you into signing low-ball offers, unnecessarily delay the process, deny the existence of insurance protection, or require you to sign releases of extra claims before settling or paying you.
Florida hurricane damage claims have a three-year statute of limitations. However, it's usually in your best interests to thoroughly document and file hurricane damage claims immediately. Many insurance policies require claims stemming from natural disasters to be filed within a one-year window.
Our Florida hurricane insurance claims lawyers:
Know the law.
Understand hurricane insurance policies.
Have a proven track record of success with these claims.
Have the financial resources to protect your interests, allowing us to properly investigate your claim and build your case with the right evidence and experts.
Know the tactics insurance adjusters use to minimize payouts - and how to effectively counter them.
If your South Florida home has sustained hurricane damage, consider contacting an experienced hurricane insurance claims attorney to help negotiate with insurance companies to advocate on your behalf so you can fully recoup your losses and begin rebuilding your life.
Our law firm serves residential and commercial clients pursuing hurricane damage insurance claims in Fort Myers, Fort Myers Beach, Sanibel, Captiva, Bonita Springs, Estero, Cape Coral, Naples, Sarasota, St. Petersburg, Venice, Key West, and other coastal communities across South Florida.
Contact our South Florida hurricane insurance claims attorneys by calling 800.977.7017 or via our online Contact Us form.