Florida Golf Cart Injury Lawyers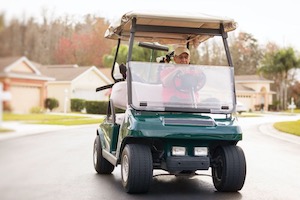 Golf carts are a popular transport mode in Florida, zipping along in green golf courses, gated communities, beach paths, retirement neighborhoods, and even on some public streets. But while many view these vehicles as harmless, it's a fact that golf cart accidents and injuries can be quite serious - even fatal, particularly when they're used on the road. Children and older adults are among those in the highest risk category.
Research published in the American Journal of Emergency Medicine revealed kids as young as 9 were driving golf carts, usually without seatbelts, and faced heightened risk of the cart overturning. (In Florida, one must be at least 14-years-old to operate a golf cart on a public road.)
Part of the problem is that many adults erroneously presume golf carts to be innocuous because they don't go very fast. Yet there were 150,000 golf cart injuries reported in a recent 16-year time frame. Roughly one-third of those involved kids under 16.
In one 2008 study, about half of kids' golf cart injuries were classified as moderate to severe. Older kids fared worse, being particularly vulnerable to head, neck, and spinal cord injuries. About a quarter of those hurt spent time in the intensive care unit. Hospital costs in those cases easily exceeded $20,000, especially if there is a severe or permanent injury.
Can I Sue for South Florida Golf Cart Injuries?
Florida golf cart injury victims can sometimes pursue civil claims to recover compensation for those losses. It may not even be necessary to file a lawsuit. You might be able to recover damages by simply filing a claim with the insurers involved and negotiating a fair settlement. If your injuries are serious, though, this isn't something you want to do without help from a qualified Florida injury lawyer.
Most golf cart injury cases will require proof of one of the following:
The golf cart was negligently operated, causing injury to the passengers (negligence).
The golf cart owner allowed it to be operated by someone who was unqualified/unsafe (negligent entrustment).
The golf cart owner allowed it to be operated by someone who in turn was negligent (vicarious liability).
The driver of another vehicle was negligent in causing a golf cart accident.
The golf cart was defectively designed/manufactured (product liability) or not properly maintained (negligence).
The owner of the property where the golf cart was being operated failed to address a dangerous condition on site (premises liability).
Talking with an experienced Fort Myers golf cart injury lawyer will help you determine what kind of case you have and who is most likely legally responsible.
Golf Carts Are Considered Dangerous Instruments in Florida
F.S. 320.01(22) defines golf carts as motor vehicles designed and manufactured for use on a golf course for sporting or recreational purposes, but that does not exceed a speed of 20 mph. They can operate on certain public roads that are expressly designated for it, so long as those roads have a posted speed limit of 30 mph or less. Also, golf carts can be operated through intersections of certain county roads with higher speed limits or those that intersect with a mobile home park or golf course.
Golf carts don't have to be registered or titled, so operators don't need to have a driver's license. If the cart is going to be used on a public road, the operator must be at least 14.
Because of the potential dangers they pose, golf carts have long been considered a "dangerous instrumentality," which is a legal designation also applied to cars. In the 1984 case of Meister v. Fisher, the Florida Supreme Court ruled that even golf carts operated on a golf course can be dangerous instrumentalities. This is an important designation because the dangerous instrumentality doctrine holds that the owner of an inherently dangerous tool is legally responsible for any injuries or damages the tool might cause. This legal concept is known as vicarious liability. As our Naples golf cart injury attorneys can explain, it basically means that the golf cart owner can be held liable for crash injuries - even if they weren't the one behind the wheel - so long as the operator had the owner's permission.
It's a little different, however, in the case of golf cart rentals. They may not be held inherently liable for operators' negligence, though they may bear some responsibility for failure to maintain their golf carts in good working order.
Do Insurance Policies Cover Golf Cart Accidents?
The short answer is: It depends.
Homeowners' or renters' insurance of the negligent golf cart driver may pay the claim, but usually only if the driver didn't own the cart in question. There's also the fact that many insurers now specifically exclude golf carts from coverage. It's important to read the terms and conditions carefully. There's also first party coverage, such as health insurance, Medicare, Medicaid, VA, and Tricare.
But while golf carts are dangerous instrumentalities and the owner has vicarious liability for permissive operation, it is not considered a motor vehicle subject to the Florida financial responsibility law. This position was affirmed in 1990 by the Fla. 2nd DCA in Am. States Ins. Co. v. Baroletti. That means golf cart owners are not obliged to abide by Florida's financial responsibility law requiring either $10,000 in bodily injury liability coverage or an affidavit attesting to having at least $10,000 in assets that could cover such losses in the event of a crash. Additionally, because a golf cart is not a motor vehicle, it is not covered by Florida's no-fault law, entitling one to personal injury protection benefits. The exception would be if someone in a golf cart was struck by another operating a motor vehicle.
The priority of coverage/insurer's duty to defend the golf cart operator should be determined by the language of the relevant insurance policy.
Our Florida golf cart injury lawyers serving Fort Myers, Naples, Port Charlotte, and Sarasota can review your case and determine which parties and insurance policies may extend coverage for your injuries and other losses.
Contact Garvin Injury Law, golf cart injury attorneys in Fort Myers, Naples, Port Charlotte, and Sarasota today at 239.277.0005, or online for a free case review.