Causes of Motorcycle Accidents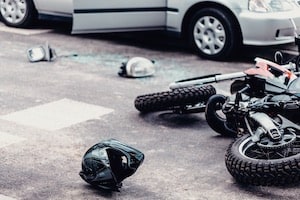 Florida is a motorcycling mecca, with its year-round sun, endless scenic stretches, and popular annual rallies like Daytona Bike Week and Biketoberfest. More than 550,000 motorcycles are registered here, and tourism draws hundreds of thousands more each year.
Everyone deserves a safe ride, but unfortunately, that is not always what happens. Florida has one of the highest numbers of motorcycle accidents in the country, and the rate has risen sharply in recent years.
There are many causes of Florida motorcycle accidents. It is important to understand what those are, the type of injuries associated with each, and how causation can factor into an injured motorcyclist's ability to be compensated.
Our South Florida motorcycle accident lawyers have been advocating for the rights of our injury law clients for nearly four decades.
Why Motorcyclists are so Vulnerable
Approximately 5,100 motorcyclists are killed in the U.S. annually. Many thousands more suffer serious and permanent injuries. Though motorcycles represent about 3 percent of registered vehicles, the Insurance Information Institute reports motorcyclists are 27 times more likely than passenger car occupants to die per vehicle mile traveled.
A big part of the problem is motorcycles, by design, are less crashworthy than other types of vehicles. They are also more challenging for other motorists to see and less stable than a four-wheeled vehicle. Operators face heightened risks in poor road conditions or inclement weather. For this reason, anyone operating a motorcycle needs a special license.
But even the most skilled motorcyclist using the greatest caution and the best-maintained bike can be seriously injured in an encounter with a careless driver.
Motorcycle Crash Catalysts
Every accident is unique, but there are some common themes when it comes to motorcycle crashes. An in-depth analysis by the National Transportation Safety Board a few years ago examined the causes of motorcycle accidents. They discovered:
Motorcycle crashes happen most often on the weekend. More than half occurred on Fridays, Saturdays, and Sundays. This makes sense because that is when people are most likely to be riding.

Most motorcycle crashes occur in the daytime. About 66 percent of motorcycle accidents happened in daylight, from 2 p.m. to 8 p.m. Again, this aligns when riders are most likely to be on the road.

Most motorcycle crashes happen at an intersection. More than 70 percent of accidents occurred at a location with intersecting traffic.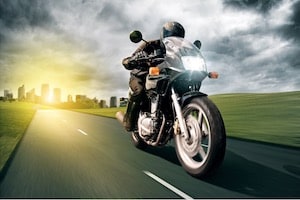 But these things, while common factors are not causes. For that, we can thank human error. That is what is to blame in 94 percent of all motorcycle accidents. Other issues like mechanical defects, roadway design issues, traffic control failures, maintenance problems, and adverse weather accounted for most of the rest.
As for human error, the list of poor driving habits could go on for days, but among the most commonly-cited in Florida motorcycle accidents:
Another vehicle turning left in front of a motorcycle. This accounts for a full 30 percent of motorcycle crashes. Right-of-way errors while making a left turn can cause serious injury and death to motorcyclists. Head injuries and neck injuries are a serious concern in these cases, particularly if the rider is not helmeted. Where the other driver was fully or even partially at-fault, a claim for damages should be filed to recover for medical expenses, lost wages, and pain and suffering.

Motorcycle falling on the roadway to avoid collision with another vehicle. "Laying down" a motorcycle does not sound so bad, but the reality is not often so tidy. This was the cited cause in about 28 percent of accidents. Operators and riders in these cases often suffer "road rash" burns that can lead to scarring, as well as the leg, foot, and thorax injuries. Even if you do not make contact with the other vehicle or the other driver is never identified, you can still file a claim for damages through your uninsured/underinsured motorist coverage.

Sideswipes. This accounts for 18 percent of motorcycle accidents. Here again, leg and foot injuries, as well as burns, are common. If you are struck by another driver who made an unsafe lane change, you have grounds to file a claim for damages.
Also, not helping:
Speeding. This is the No. 1 cause of all vehicle crashes. The higher the speed, the greater the consequences of the impact.

Sudden stops. Rear-end collisions can result in serious injury or death to motorcyclists. In Florida, there is a rebuttable presumption that the driver in the rear was at-fault for following too closely.

Driving under the influence. The National Highway Traffic Safety Administration (NHTSA) reports nearly one-third of all collisions. The rate of driver impairment in fatal crashes is higher for motorcycle operators than passenger vehicle drivers (27 percent vs. 21 percent). Passengers of impaired motorcyclists may be able to file a claim for damages. If the impaired driver was under 21, those injured might claim dram shop liability per F.S. 768.125 against any bar or establishment that served them.
It is important to understand that even if you were partially at-fault in the motorcycle accident that caused your injuries, you might still have grounds to collect damages. Florida follows a system of pure comparative fault, which means that even if you share the blame for what happened, it will not prohibit you from collecting altogether. It might, however, proportionately limit the amount of compensation you can receive. As your attorneys, our team would work to mitigate any evidence of comparative fault and advocate for you to receive full and fair compensation.
If you have been injured in a motorcycle accident in Fort Myers, Cape Coral, Lehigh Acres, Naples, or Key West, our injury lawyers are available for a free consultation to help you examine your legal options.
Contact Garvin Injury Law motorcycle accident attorneys in Fort Myers today at 239.277.0005 or online for a free case review.