Cape Coral Motorcycle Accident Lawyer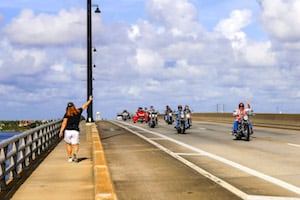 Southwest Florida is among the most popular places in the nation for motorcycle riders.
It is also among the deadliest.
Our experienced motorcycle injury lawyers in Cape Coral know the vast majority of motorcycle collisions involving a vehicle are the fault of the vehicle's driver; however, that is often little consolation to a family dealing with disabling injury or wrongful death.
Traditionally, riding along the coastline and byways north of the Caloosahatchee River offered riders a safer refuge from the traffic and explosive growth that has defined Southwest Florida for half a century. Today, Cape Coral is among the fastest growing cities in the nation with a population approaching 200,000 residents, by far the largest in Lee County.
Motorcycle Injury Lawsuits in Cape Coral
Florida is the deadliest state in the nation when it comes to motorcycle accidents, according to the Governors Highway Safety Association.
Nationwide, the number of fatal motorcycle accidents has doubled in the last 20 years, from fewer than 2,500 deaths in 1999, to nearly 5,300 deaths in 2016. Florida reports more than 500 rider deaths each year. California and Texas are the only other states that report more than 200 rider deaths annually.
An experienced Cape Coral motorcycle injury attorney knows most riders understand the risks and do whatever they can to return home safe to their families. Most vehicle drivers are found at fault when involved in a collision with a motorcycle. Frequently, a driver fails to yield and turns left in front of an oncoming rider. Nearly all riders, even those involved in parking lot collisions or other mishaps at slow speeds, are seriously or critically injured.
In too many cases, a rider is blamed or found partially at fault. Early consultation with an experienced Cape Coral injury law firm can help protect your rights. Florida's law on comparative fault is found under F.S. 768.81, which permits partial damage recovery even in cases where a victim is found partially at fault for his or her own injuries. Victims determined to be partially at fault may still collect damages, although a damage award may be reduced by proportion of blame.
Determining all of the insurance coverage available is also critical. Even in cases where the liability of an at-fault driver is clearly established, Florida's mandatory minimum insurance law is the lowest in the nation and requires motorist to carry just $10,000 in Personal Injury Protection, which is reduced to just $2,500 if victims do not seek medical treatment in the immediate aftermath of a collision. Of even greater concern, is the fact that 1 in 4 Florida drivers are on the road without any insurance at all, according to the Insurance Information Institute; and Florida leads the nation with the number of hit-and-run collisions.
A Cape Coral law firm with extensive experience in handling personal injury and wrongful death claims will carefully review your case for all available insurance coverage, which may include policies in place on other vehicles in an at-fault driver's household, or a claim against a victim's own insurance carrier in cases where uninsured motorist (UM)/underinsured motorist (UIM) coverage is available. UM/UIM coverage is vital coverage all riders should carry as it protects you in the event of a collision with an at-fault rider who either does not have insurance or lacks enough insurance to fully compensate you for all losses.
In addition to identifying all responsible parties, your Cape Coral motorcycle accident attorney must also have extensive experience in determining the full extent of your damages, including medical bills, lost wages, pain and suffering, rehabilitation, disability, and the long-term consequences of your injury.
These are complex cases and the stakes are high with the long-term financial security of victims and their families at stake. Trusting your case to a local law firm with extensive experience, both in the negotiating room, and in the courtroom, will offer the best chance of a successful outcome.
If you or a loved one is injured, call the Garvin Injury Law at 800.977.7017 for your free consultation.