Bradenton Car Accident Lawyer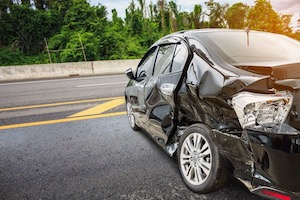 Bradenton is a city in South Florida located in Manatee County, where an average of 5,800 crashes are reported each year. Officials report these collisions result in nearly 4,800 injuries and more than 60 deaths annually. Crashes involving motorcyclists, bicyclists, and pedestrians tend to be the most serious, though no one is entirely immune from the devastating consequences of careless drivers.
The Sarasota-Manatee county area experienced a sharp uptick in traffic fatalities over the last couple years, particularly during the pandemic. Traffic volumes were down, but that compelled more drivers to speed, according to the regional transportation planning agency. In just one recent year, more than 120 people were killed in local crashes, with vehicles moving outside of designated lanes cited as a primary cause in many Bradenton car accidents.
Within the last few years, local officials have started brainstorming about how to reduce the risk at Bradenton area's most dangerous intersections, identified as:
S. 41/14th Street West at 53rd Avenue West
US 41/14th Street West at Cortez Road West
State Road 70/53rd Avenue East at Lockwood Ridge Road
University Parkway at Lockwood Ridge Road
University Parkway at Copper Creek Boulevard
S. 41/North Tamiami Trail at University Parkway
While local transportation officials are examining road design solutions to traffic safety issues, much of it comes down to driver behavior. In addition to speeding, other common causes of Bradenton motor vehicle crashes:
Drunk driving.The Florida Department of Highway Safety and Motor Vehicles reports there are an average of 120 impaired driving crashes a year in Manatee County. That includes drug-confirmed crashes as well. A sizable percentage of both result in reported injuries, and 10 percent are fatal. In some Bradenton drunk driving cases, claims can be pursued against bars or social hosts under the state's dram shop law if the driver was served alcohol by parties who knew/should have known the person was a minor (under 21) or known to be an alcoholic.
Distracted driving. The FLHSMV reports there are nearly 50,000 distracted driving crashes in Florida every year - nearly 900 of those in Manatee County. Statewide, distracted driving results in 2,800 injuries and more than 300 deaths every year. It's a top contributor to rear-end collisions.
Fatigue or drowsiness.The National Centers for Disease Control & Prevention (CDC) reports more than one-third of U.S. drivers get less than the recommended 7 hours of sleep nightly. Poor or inadequate sleep has effects on driving similar to alcohol impairment, including reduced reaction times to changing road conditions, drifting from one's lane, "tunnel vision" (losing a sense of what's going on in one's periphery vision), nodding off or "microsleeps" (lasting sometimes up to 30 seconds), blanking out completely on the last few miles driven. Long-haul truckers, shift workers, and vacationers (traveling long distances to get to their destination faster) may be especially prone to fatigued driving, but no one is immune.
Recklessness, aggressive driving, and road rage. Increasingly more people are sharing the roads in Florida, which certainly can lead to an uptick in frayed nerves. That said, aggressive driving and road rage is never Ok. The AAA Foundation for Traffic Safety reports aggressive driving (tailgating, speeding, running red lights, cutting other drivers off, weaving in and out of traffic, and otherwise being deliberately unsafe) is a factor in more than half of all deadly crashes.
Inadequate vehicle maintenance or defective vehicle/part. Motor vehicle owners are expected to keep their vehicle maintained in safe working order. Failure to do so causing or contributing to a Bradenton car accident can lead to a finding of liability against that driver. When a vehicle or vehicle part is designed or manufactured with a safety defect, product liability claims against the manufacturer or distributor may be appropriate. This includes things like brakes, airbags, locks, accelerators, and even child car seats.
Adverse weather and poor road conditions.While it's true that South Florida is prone to certain dangerous road conditions (dense fog, brush fire smoke, heavy rains, etc.), it is still incumbent on those behind the wheel to use "reasonable care." This means acting as any reasonable and prudent person would under the same conditions. If rain is impacting visibility or braking time, the reasonable and prudent thing to do would be to either slow down considerably or pull over until the condition subsides. Failure to use reasonable care is negligence, and is grounds for finding a driver liable in a Bradenton crash.
How Do I Prove Fault and Damages in a Bradenton Car Accident Case?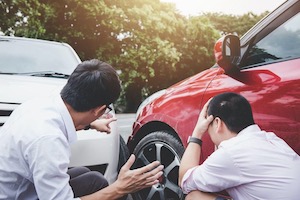 As our Bradenton car accident lawyers can explain, the two biggest sticking points in most crash cases are fault and damages.
Fault
refers to which parties are responsible to cover the cost of damages. Florida is a no-fault state with regard to car insurance. That means drivers are required to carry personal injury protection (PIP) insurance, which covers a percentage of one's medical expenses and lost wages if you're in a crash - no matter who was at-fault. PIP will cover damages to you and your passengers. However, PIP only provides up to $10,000 in coverage for a portion of your medical bills and lost wages. It also isn't available for motorcyclists and isn't required for pedestrians or bicyclists who may be hurt in a crash.
One can step outside the no-fault system and claim damages if they meet or exceed the serious injury threshold, as outlined in F.S. 627.737. If so, you can pursue damages (recover compensation for what you've lost) from other at-fault parties. That can be the other driver, the maker of a defective vehicle, a government agency that failed to mitigate the danger at a hazardous intersection, or a bar that served alcohol to a minor who later wrecked. In these cases, the degree of fault will matter. Florida is a pure comparative fault state, meaning even if the person injured was partially at-fault, they can still collect damages from others who were at-fault. However, the amount they can collect will be proportionately reduced by their own percentage of fault. So if one's damages are determined to be $200,000 but they were 40 percent at-fault, they will only be entitled to collect 60 percent of their total damages from the other at-fault parties, or $120,000. Working with a skilled, experienced South Florida car accident lawyer who understands how to successfully challenge any assertions of fault on your part can help reduce your comparative fault, and ultimately increase the damages you can collect.
"Damages" refers to what you've lost as a result of the crash. For some damages, we can simply show the receipts. These are called special or economic damages. Losses like medical bills, how much time you had to take off work (lost wages), ongoing therapies, transportation costs, medication costs, etc. - all of these things are typically easy enough to tally in black-and-white. Estimating future expenses (to which you may also be entitled) gets a little trickier, and requires evidence of how severe your injury is and how it is likely to impact you in the months and years to come. You may also be entitled to something called non-economic damages, which are for less easily quantifiable impacts, such as pain and suffering and loss of life enjoyment. Here again, working with a qualified injury attorney usually makes a significant difference.
If you are injured in a Bradenton car accident, our injury law firm has decades of experience, proven results and can help you navigate the claims process and fight for full and fair compensation for your losses.
Contact Garvin Injury Law, Bradenton car accident lawyers, by calling 239.277.0005, or write to us online for a free case review.