Fort Myers Federal Criminal Defense Lawyers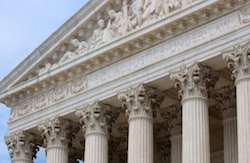 Being arrested, or finding out that you are the target of a criminal investigation is an incredibly scary time, as our Fort Myers federal crime lawyers understand. It is even more frightening to learn that the Federal Government is at the other end of this process. The United States Government has unlimited resources at their disposal; after all, they are prosecuting defendants with their own tax dollars.
In Federal Court, an arrestee has usually been followed or investigated for months, even years; this is very different from a state case where officers often stumble upon a serious crime after pulling a suspect over for something as simple as a traffic ticket. This investigation process greatly changes how Federal cases are handled and is one of the many reasons why an experienced federal crime attorney in Fort Myers is necessary to properly handle these complex cases. Defendants charged in Federal Court are often charged with committing criminal acts, which would also be illegal under similar state law; however, the process that will soon follow is vastly different and requires specialized experience.
When charges are formally filed by the U.S. Attorneys office they are either filed by an indictment or information. If the charge is a felony, the Fifth Amendment of the U.S. Constitution requires that the defendant must be indicted by a grand jury; if the charge is a misdemeanor (or a felony where the Defendant agrees to waive indictment), the U.S. Attorney's office can simply file a piece of paper (Information) saying that the defendant committed the illegal conduct.
After an arrest, the Defendant must be taken, without unnecessary delay before a magistrate judge to advise the Defendant of the charges, their right to retain (or be appointed) an attorney, and at this time, the judge may initially determine if the Defendant can be released pending trial.
Unlike state court, the discovery (a.k.a. investigation) process is very limited and the Defendant is very restricted in the investigations that he/she will be permitted to participate in. This yet another reason why it is important that a defendant hire a good federal crime lawyer in Fort Myers. At Garvin Injury Law, we have developed a reputation for handling these cases with an attention to detail and take the time necessary in an effort to achieve the best possible outcomes on our Federal Cases.
If you, or someone you know is facing Federal prosecution in Federal Court please contact our Fort Myers federal crime attorneys as soon as possible as the Federal criminal process moves incredibly quickly.
We often handle the Following types of cases in the Middle and Southern Districts of Florida in the United States District Court:
Immigration Offenses
Bank Robbery
Drug Trafficking
Criminal Enterprises
Antitrust Violations
Computer and Internet Fraud
Credit Card Fraud
Extortion
Wire Fraud
Phone and Telemarketing Fraud
Bankruptcy Fraud
Healthcare Fraud
Environmental Law Violations
Insurance Fraud
Mail Fraud
Mortgage Fraud
Government Fraud
Tax Evasion
Bankruptcy Fraud
Financial Fraud
Securities Fraud
Insider Trading
Alien Smuggling
False Statement
Drug Offenses
Bribery
Kickbacks
Counterfeiting
Public Corruption
Money Laundering
Embezzlement
Economic Espionage
Resources
U.S. Attorneys Office Mission Statement:
The United States Attorneys serve as the nation's principal litigators under the direction of the Attorney General. There are 93 United States Attorneys stationed throughout the United States, Puerto Rico, the Virgin Islands, Guam, and the Northern Mariana Islands. United States Attorneys are appointed by, and serve at the discretion of, the President of the United States, with advice and consent of the United States Senate. One United States Attorney is assigned to each of the judicial districts, with the exception of Guam and the Northern Mariana Islands where a single United States Attorney serves in both districts. Each United States Attorney is the chief federal law enforcement officer of the United States within his or her particular jurisdiction.

Federal Bureau of Investigation Mission Statement:
To protect and defend the United States against terrorist and foreign intelligence threats, to uphold and enforce the criminal laws of the United States, and to provide leadership and criminal justice services to federal, state, municipal, and international agencies and partners.

Department of Justice, or DOJ, Mission Statement:
To enforce the law and defend the interests of the United States according to the law; to ensure public safety against threats foreign and domestic; to provide federal leadership in preventing and controlling crime; to seek just punishment for those guilty of unlawful behavior; and to ensure fair and impartial administration of justice for all Americans.