Fort Myers Criminal Defense Lawyer
After handling thousands of cases as both a prosecutor and a Fort Myers, criminal defense attorney, I have learned that each and every case is different.
I could sit here and boast about specific cases that have resulted in positive outcomes for my clients; however, I would not want to represent or guarantee a specific outcome in your case.
What I will guarantee is that I will spend the time it takes to provide you the best possible outcome given your particular situation.
By listening carefully, I will learn the subtle details that set your case apart from the rest. I will then use my experience as a Prosecutor to anticipate the next move of the Government and will be prepared to react accordingly. I will also take the time to discuss the long term consequences that a seemingly good resolution may have on your future career and life plans.
Contact my office today, and we will discuss how this type of defense can positively affect your situation.
Very truly yours,
Leland Garvin
The Criminal Justice System in Florida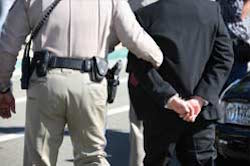 Criminal Defense is a term used by the legal community to describe the following types of cases which are handled by a criminal judge in either: County Court, for a Misdemeanor, Circuit Court, for Felony, and Juvenile Delinquency. Domestic Violence cases are often dealt with by a civil judge for a restraining (or stay away) order and a Criminal Judge for the actual case. Our Fort Myers criminal defense lawyers are familiar with each of these proceedings and their nuances.
A judge sitting on a Criminal County Court bench is limited to punishing Defendants to a maximum sentence of 364 days in the county jail; whereas a Circuit (or Felony) Court judge can sentence defendants to a maximum of Life in Prison or even Death, if the judge is "Death Qualified" by the Florida Supreme Court. While Juvenile (aka. Delinquency) Court is in the Circuit court system there are much different rules that apply. A Juvenile Judge can impose a sentence of anywhere from a Stern Judicial Warning to a maximum of a level 10, which is around ten months in a juvenile program. A juvenile can also be directly filed into the adult criminal system where they will stand trial as an adult.
If You Are Arrested
If you or someone you know has either been arrested or is currently facing criminal charges in the Fort Myers area, our criminal defense lawyers want you to know that you have a constitutional right to remain silent. If you are read your Miranda warnings, the police officer should tell you that any information may be used against you in a court of law. It is important to remember that the State or Federal Government has the burden to prove each and every element of the crime beyond and to the exclusion of reasonable doubt; given that information, you can see why it is important to remain silent. When a police officer tells you that anything you say may be used against you in a court of law, you can be assured that it most certainly will. In addition to a constitutional right to remain silent, you have a constitutional right to an attorney. In order to invoke your right to Counsel, you must very clearly state, "I want a lawyer." when in doubt. say this many times and be sure to tell each and every law enforcement officer who comes to speak with you.
After you are arrested, you should consult a criminal defense attorney in Fort Myers as soon as possible; much can be done in your defense during these initial few hours.
Contact our law firm as soon as possible, and we can work to develop a strategy to minimize any damage that may have occurred.
Here are a few of the types of criminal charges that Garvin Injury Law handles:
Juvenile Delinquency
Assault and Battery
Drug Use
Sexual Charges
Burglary
Sexual Misconduct
Vandalism
Theft offenses
Battery on a School Employee
Drug Cases
Possession of Drugs
Intent to Sell/Deliver Drugs
Drug Trafficking
Cannabis
Cocaine
Violent Crimes
Assault and Battery
Domestic Violence
Attempted Murder
Felony Murder
Armed Robbery
Strong Arm Robbery
Theft
Burglary
Larceny
Grand Theft
Petit Theft/ Shoplifting
Stolen Property
Probation Violations
Bench Warrants
Change of Charge Capias
Open Capias
Failure to Appear at Court
Fraud Crimes
Computer Crimes
Credit Card Fraud
Forgery
Bank Fraud
Investment Fraud
Money Laundering
Racketeering (RICO)
Sex Cases
Assault
Rape
Lewdness
Indecent Exposure
Child Molestation/Child Abuse
Bond Hearings
Weapon Charges
Possession of Weapon by Felon
Improper Display of Firearm
Illegal Weapon
Driving Offences
DUI/DWI
BUI/BWI
DWLS
Reckless Driving
Careless Driving
Payment Plans Available