Florida Boating Under the Influence (BUI) Law Firm
.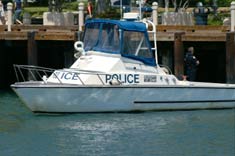 The penalties and laws for Boating Under the Influence in Florida are almost identical to those that apply to Driving Under the Influence with a few exceptions. For example, the operator of a vessel who fails to submit to a blood, breath, or urine test is subject to a $500.00 dollar fine which must be paid to either the Marine Resources Conservation Trust Fund or other law enforcement trust fund, depending on the department that made the arrest. Also important to note is that the DMV is not involved with this offense and your license will not be suspended in you refuse to submit to breath or urine alcohol testing.
Much like the prosecution for DUI the State must prove that the person was in actual physical control of the vessel, this can be tough for the state as many boats do not have a driver's seat.
Making the prosecution for this offense even more difficult for the State is that fact that while there are channels, there are not exactly clearly marked lanes in which a vessel can weave into or cross over. However, as many boaters are aware, law enforcement officers often conduct safety inspections at which point they could notice that a captain could be impaired.
Law enforcement officers are instructed to look for signs of impairment which include: flushed face, bloodshot/glassy eyes, and slurred speech. The first two are easily explained by the sun that her or she would normally get while on a boat, the bloodshot/glassy eyes can be explained by the operators swimming and/or wind from cruising in the boat.
If the captain appears to be visually intoxicated the law enforcement officer may ask them to submit to Field Sobriety Exercises which might be conducted on a nearby seawall, this is a less than perfect environment. If these exercises are conducted and an operator does poorly on these exercises it can often be explained by the term Sea Legs which anyone who has been on a boat has experienced when they return to dry land and have trouble keeping their balance.
In sum, the prosecution for the crime of Boating Under the Influence in Florida can be difficult for the state if your defense attorney knows how to point out the flaws inherent to any South Florida arrest for BUI.
If you or someone you know has been arrested for BUI in South Florida, please contact our office to discuss your case; attorney Leland E. Garvin is a Florida native who has grown up navigating the waters and the courtrooms of this great state. From our offices in Fort Myers and Fort Lauderdale we handle BUI cases in Broward, Miami-Dade, Palm Beach, Monroe, Lee, and Collier counties.
Online Resources:
-Florida BUI Lawyer Webpage-
-Information on Fort Lauderdale BUI Lawyer-
-Naples BUI Law-